ROMEOVILLE, Ill. — Officials with the Lewis University Aviation Maintenance bachelor degree program are noting that it's tough to keep students in the classroom.
"We have companies hiring students months before they earn degrees," said R. Eric Jones, Lewis University Director of Aviation Maintenance Management. "This last semester, 100% of our aviation technicians were hired within weeks of graduation."
Jones' office is flooded by urgent emails and phone calls from employers that want to hire Lewis University Aviation Maintenance Degree graduates, he noted.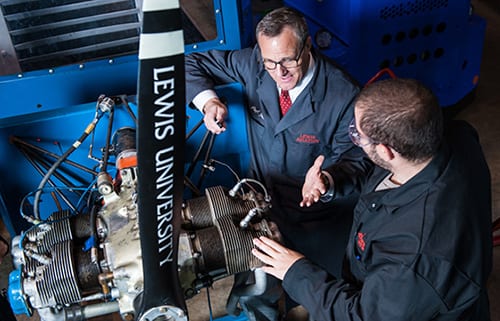 This demand is in line with the national hiring trend expected over the next 20 years in the aviation industry. The 2014 Boeing Pilot and Technician Outlook projected 584,000 new maintenance technicians will be needed to fly and maintain the world fleet.
Individuals interested in exploring how they can enter this in-demand career can attend the "Get Hired in Aviation Maintenance Conference" on Saturday, July 25, at Lewis University. From 9-11:30 a.m., attendees can discover aviation maintenance career opportunities, tour the Lewis University Aviation facilities and get a roadmap to becoming an aviation technician.
Industry leaders and recruiters will be present at the event to network with attendees and discuss prospects.
All attendees will receive:
Free continental breakfast
$40 application fee waived (for new applicants)
A $100 Snap-on gift card upon enrollment
Raffle ticket for a Snap-on Tools & Accessories Package (valued at $1,000)
Raffle ticket for a free Lewis University Flight
You can register for the conference here.