CubCrafters has inked a deal  with the Liaoning Cub Aircraft Corporation (LCA) of China that includes the sale of the CC18 Top Cub Type Certificate, as well as a corresponding license agreement for CubCrafters to continue manufacturing and marketing the aircraft for non‐Chinese markets.
Four years in the making, the agreement includes validation of the CC18 Type Certificate by the Chinese aviation authority (CAAC).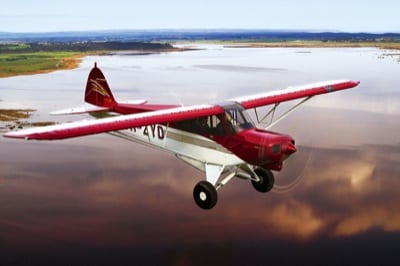 The new relationship introduces Cub-type aircraft into the growing Chinese GA marketplace, according to CubCrafters officials.
Powered by either the Lycoming O‐360 C4P or the Superior Vantage O‐360 A3A2, the Top Cub
can be configured in a number of ways, including skis, and both straight and amphibious floats. With a
useful load of over 1,000 pounds, it is expected to be well received in the growing Chinese market, CubCrafters officials said.
The sale of the CC18‐180 Type Certificate, and corresponding long-term support contracts, will
fund CubCrafters' ambitious lineup of new-generation aircraft projects, company officials noted.
Long term contracts integral to the deal include CubCrafters' ongoing management of FAA‐required Continued Operational Safety (COS), manufacturing and marketing the Top Cub for the US and other markets, and providing worldwide fleet support indefinitely.
"This new agreement helps position CubCrafters for the future, both in terms of expansion into international markets, and funding current and future development projects," said Jim Richmond, CubCrafters founder and CEO. "Though CubCrafters and LCA remain separate and independent entities, opportunities to cooperate in the Chinese market together look promising"
Zhijun Qian, CEO of LCA, noted that from his first meeting with CubCrafters in 2011, he "was inspired to introduce this aircraft into China. This agreement represents the beginning of the next phase of our
vision to introduce this iconic aircraft into Chinese general aviation. We look forward to seeing her flying throughout China soon."