Garmin has expanded its Connext ecosystem, which broadens compatibility to include the Garmin aera 796/795 aviation portable GPS, ForeFlight Mobile and Jeppesen Mobile FliteDeck.
With compatible Garmin avionics, customers can wirelessly receive ADS-B weather and traffic, as well as display precise GPS position data and back-up attitude information.
"We're excited to have ForeFlight's and Jeppesen's flagship apps join the Connext umbrella of tablet connectivity," said Carl Wolf, Garmin's vice president of aviation sales and marketing. "Expanding the Connext ecosystem also gives aircraft owners additional options when pursuing ADS-B solutions and avionics upgrades and now, thousands of existing aera 796/795, ForeFlight Mobile and Jeppesen Mobile FliteDeck customers have the capability to display ADS-B traffic and weather on their portable devices."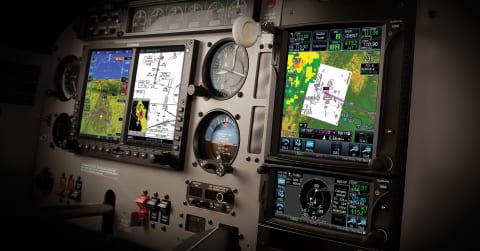 The aera 796/795 now features compatibility with Flight Stream 210/110 when installed with a GDL 88/84 to display ADS-B traffic, weather and attitude information. Flight Stream 210 also supports the display of back-up attitude information within the aera 796/795 on the 3D vision page.
As part of Garmin's Terminal Safety Solutions, TargetTrend relative motion technology and TerminalTraffic enhance the traffic display on the aera. TargetTrend offers pilots a heightened state of situational awareness, which incorporates relative motion technology to help pilots visualize closure rates of potential traffic conflicts.
The traffic display is further enhanced during taxi, takeoff and landing with TerminalTraffic, which detects and displays other aircraft or ground vehicles on runways and taxiways who are ADS-B Out compliant. FIS-B subscription-free weather information, including NEXRAD, METARs, TAFs, TFRs and AIRMETs/SIGMETs may optionally be overlaid on the moving map.
Also available, the aera 796/795 pairs with G3X Touch and GDL 39R to support the display of ADS-B traffic and weather on the aera.
ForeFlight Mobile wirelessly communicates with Flight Stream 210/110 to display ADS-B traffic and weather information received from the GDL 88/84. The internal attitude sensor within Flight Stream 210 also powers ForeFlight Synthetic Vision with dynamic pitch and bank information.
The Jeppesen Mobile FliteDeck app is expected to support the display of ADS-B traffic and weather, as well as WAAS GPS position information from a compatible source.
Flight Stream 210/110 is a small, Bluetooth wireless gateway, that enables communication between avionics and up to two compatible devices. Flight planning is transformed with Flight Stream and the Garmin Pilot app on an iPad/iPhone and select Android devices, enabling communication between the GTN 650/750 touchscreen series and the GNS 430W/530W navigators, company officials said.
Flight Stream 110 is designed to pair with a GDL 88/84 and/or GDL 69/69A to provide the benefits of these products without the need for a compatible avionics display. Flight Stream 210 adds connectivity with the GTN and GNS WAAS series navigators, as well as back-up attitude information within compatible mobile devices.
Additionally, Flight Stream 210 contains an internal attitude sensor, however if a G500/G600 flight display is installed in the aircraft, its attitude source can take priority for display within Garmin Pilot.
Expanded functionality of the GDL 69 SiriusXM datalink receiver displays SiriusXM Aviation weather on a tablet operating Garmin Pilot. Remote control of SiriusXM satellite radio is also available within Garmin Pilot for customers with a GDL 69A and Flight Stream 210/110. G3X Touch comes equipped with the Connext Bluetooth wireless gateway built-in, also providing flight plan transfer capabilities.