iFlightPlanner has incorporated Hangar Network's real estate data into its flight planning tools.
Now hangars and airport properties that are for sale, lease or available as transient space are viewable as an interactive layer in all of iFlightPlanner's web-based mapping interfaces.
An industry first, these new tools allow pilots to see all the space available at airports along their route of flight, according to iFlightPlanner officials.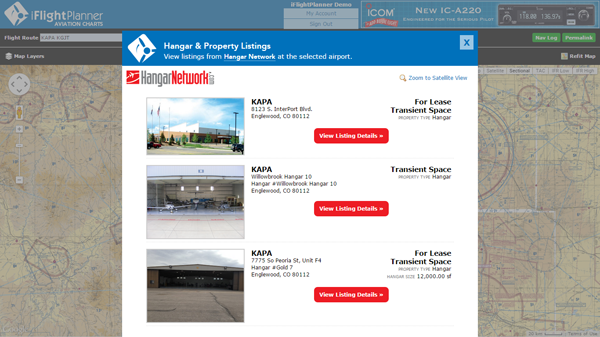 Listings are updated by Hangar Network daily, allowing iFlightPlanner to provide one-click access to current, complete listing details and property information for those buying or selling a hangar, seeking a home for a flight department, or searching for transient space during an upcoming trip.
"We are taking the first step toward creating a system where, in addition to exposing an airport's long-term real estate options, aviators are able to communicate and make transient hangar accommodations available on a real-time basis," said Iver Retrum, co-founder and manager, Hangar Network.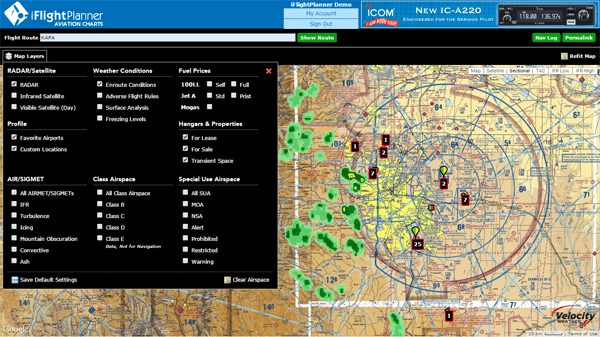 Pilots may choose to overlay any combination of Hangar Network listings along their route of flight by selecting their preferred property types from the Map Layers menu found in the upper-left corner of all iFlightPlanner's online maps. Available hangars, land, airport residential space, tie down space and warehouse/flex space are all shown.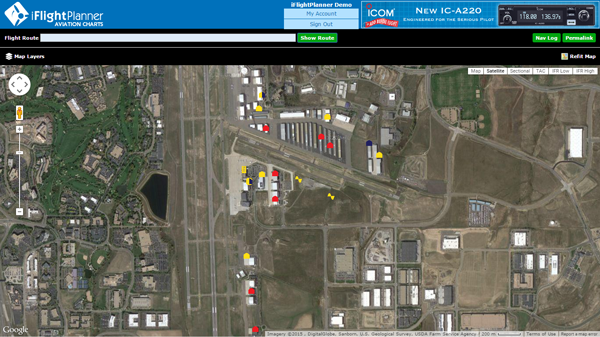 When zoomed out, iFlightPlanner will show a summarized total of listings at each airport, and when zoomed in, or by clicking the "Zoom to Satellite View" button, users can see the precise location of each listing on the airfield with color-coded identifiers indicating their availability.
In addition to the graphical map layer, all of Hangar Network's listings are also available through iFlightPlanner's Airport/Facility Directory on the Hangars & Properties tab available for each airport.