The achievements of the Civil Air Patrol's National Cell Phone Forensics Team — which has supported 126 search and rescue missions, resulting in 76 lives saved and 66 additional finds — made it the logical choice for the 2014 AFNORTH Commander's Award, according to CAP officials.
Brig. Gen. David W. Hicks, vice commander of 1st Air Force, presented the award to the Cell Phone Forensics Team's two members – Maj. Justin Ogden of Forest, Virginia, and Col. Brian Ready of Scottsdale, Arizona – on Saturday, Aug. 29, during CAP's 2015 National Conference in Orlando, Florida.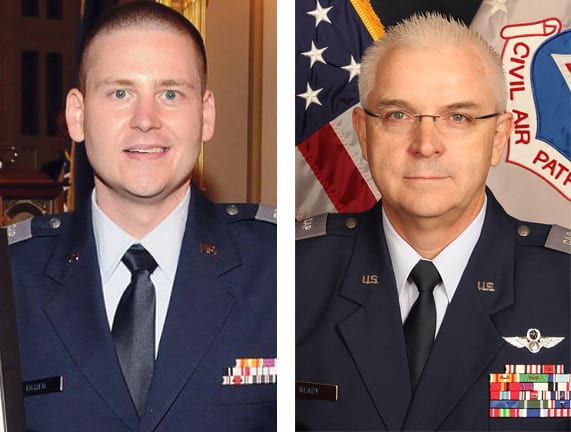 The team was instrumental in over one third of the lives saved in missions tasked by the Air Force Rescue Coordination Center in 2014, an unprecedented achievement by any single organization, CAP officials noted.
Throughout the year, the team participated in countless hours of nationwide coordination with hundreds of search and rescue, public safety, state and other federal interagency partners, including many missions conducted simultaneously in support of multiple operations across the nation.
As an example, during one nine-day period from April 28 to May 6, seven lives were saved on three missions with the team's support – a missing man and his son and daughter, 10 and 6, in South Carolina; a missing 22-year-old woman in the forests of Pierce County, Washington; and three female hikers in Beacon Rock Park in Skamania County, Washington.
The team played an even more dramatic role two months later when it was called on in the middle of the night to assist in the search for a 52-year-old patient with bipolar disorder and dementia who had been lost for two days in Chittenden, Vermont. The missing person was located within hours with the use of information the team provided.
Such efforts, which led to an average of more than one save per week in 2014, reflected 1st Air Force's consistent reliance on Ogden's and Ready's skills and abilities, CAP officials noted.
Ogden, a Civil Air Patrol member since joining as a cadet in June 1993, said he sees the work he and Ready do as another opportunity to give back to the community and also to the organization that has had so much influence on their lives.
"It's rewarding," he said. "We're both longtime volunteers. We didn't just join to do the cellphone stuff. We have a history with the organization and it is another way to contribute to the organization. I'm thrilled to be able to give back."
The forensics mission "justifies what CAP is all about – service before self," Ready said. "That's our core value, and we have a great team that does great work that has an impact nationwide."