Garmin has unveiled a new touchscreen controller option, which serves as the interface between the pilot and G2000, G3000 and G5000 Integrated Flight Decks (IFD), while also providing Standby Flight Display (SFD) capabilities.
A new, high-resolution landscape display and infrared touchscreen serves as the primary point of entry, so flight plan modifications and data entry are streamlined and simplified, according to company officials.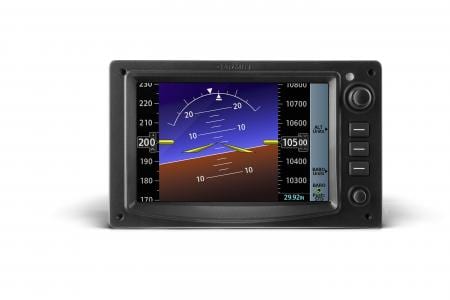 The GTC 580 leverages the icon-driven GTC 570 interface, providing fight deck management control, including flight planning, radio and audio management, weather systems control and more.
Standby Flight Display
Stand-alone Attitude and Heading Reference System (AHRS) and air data sensors derived from an independent source display back-up attitude information on the GTC 580.
The GTC 580 also displays airspeed, barometric altitude and heading information alongside attitude information on a single display.
For added redundancy, primary AHRS data from the Integrated Flight Deck is sent to the GTC 580 and compared against the stand-alone AHRS and air data information. Pilots are immediately notified of any discrepancies found between the AHRS sources and can manually select standby flight mode or, in the event of a PFD failure, the GTC 580 can revert to SFD mode automatically.
Interface
The GTC 580 features an icon-driven interface on a 5.8-inch liquid crystal display (LCD). The sunlight readable high-resolution (1280 x 768) color display boasts an infrared touchscreen for faster and more responsive data entry – even with gloves.
In addition to serving as a standby flight display, pilots can fully control the Integrated Flight Deck displays via the GTC 580. Complete control of the moving map and weather overlays on the PFD/MFD, management of the transponder and radio/audio controls and more, are available through the touchscreen controller.
The GTC 580 digital touchscreen controller is available as an option for Garmin's aircraft manufacturer partners to incorporate into their G2000, G3000 and G5000 IFDs.