STARKVILLE, Miss. — Officials with the Alliance for System Safety of UAS through Research Excellence (ASSURE), led by Mississippi State University, met with FAA officials this week, with the focus on the initial challenges the alliance's researchers are tackling to safely integrate unmanned aerial systems — also known as remotely piloted aircraft or drones — into the National Airspace System.
"Our best days are just starting," said David Shaw, MSU's vice president for research and economic development.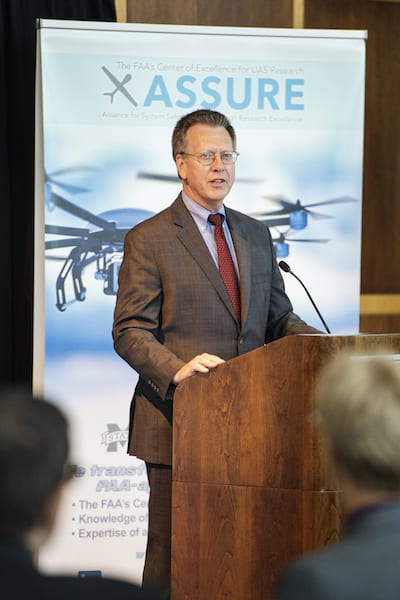 The opening round of research funding of approximately $5 million appropriated by Congress will address:
Air to air impact of UAS and manned aircraft will model what happens when UAS and manned aircraft collide. Includes computer studies to find out what happens when a UAS gets ingested into a jet engine or impacts the aircraft itself. Wichita State University is the lead institution with support from Ohio State University and Mississippi State.
Air to ground UAS impact uses computer modeling to research what happens when a variety of different UAS impact objects on the ground. The University of Alabama-Huntsville is the lead with Mississippi State University, the University of Kansas and Embry-Riddle Aeronautical University support.
Airworthiness standards validation will test industry-developed UAS airworthiness standards to determine if they make UAS safer. Kansas State University is the lead with support from the University of North Dakota and Wichita State.
UAS maintenance standards development will develop training and certification standards for UAS maintenance and UAS maintenance personnel. Kansas State is the lead with Embry Riddle and Montana State University support.
Beyond visual line of sight procedures will research methods to allow safe beyond visual line of sight conditions using proven safety methods, such as NASA Ames's unmanned traffic management system. North Dakota and New Mexico State University are working on this facet.
Surveillance criticality will research if detect-and-avoid technology used for manned aircraft can be used in unmanned aircraft. Given that unmanned vehicles do not have a crew on board to repair or reset navigation aids, this research will investigate what happens if the UAS loses its detect and avoid systems. North Carolina State is the lead with MSU, Embry Riddle, North Dakota and Oregon State support.
Human factors will research the unique differences in human factors — ground station layout, information displays and emergency actions — between manned and unmanned aircraft. This research also will address training impacts for pilots and visual observers of improved human machine interfaces. Drexel University is the lead with Embry Riddle, Ohio State and New Mexico State support.
According to ASSURE's executive director at MSU James Poss, the center is working to provide research to maximize the potential of commercial UAS with minimal changes to the current system regulating manned aircraft.
"I've been very impressed by how fast the FAA moved to get us researching the information they need to safely integrate UAS into our national airspace," he said. "Normally it takes 15 months to allocate and evaluate research. With the FAA's support, our team did it in 15 weeks."
ASSURE research will take place at the 21 member universities throughout the U.S. and globally.
"The UAS market is going to be huge — in many ways it will change the way we live. However, we need research like this to make sure we enable this market safely," Poss said.