KISSIMMEE, Florida — Terry Lloyd, director of Kissimmee  Gateway Airport (KISM) has been recognized as a 2015 Veteran of Influence by the Orlando Business Journal.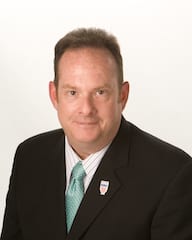 Lloyd has led the city's airport team since 2000, when he retired from Patrick Air Force Base in Cocoa Beach, Florida, after a 22-year career that took him all over the world.
"Being named a Veteran of Influence is a great honor, and I hope it reflects on all veterans who have transitioned back to civilian life to serve our communities and families." said Lloyd. "I am eternally grateful for the opportunity given to me by the City of Kissimmee, and now retired City Manager Mark Durbin, to use my aviation expertise and leadership experience from the Air Force, to help develop the City's airport for the economic benefit of our residents."
The Veterans of Influence Award recognizes military veterans who have become successful members of the Orlando business community. Lloyd is among 26 awardees who served their country before returning home to improve their region's economic vitality.
The Orlando Business Journal will honor this year's Veterans of Influence during a reception Sept. 30.