SALINA, Kansas — Kansas State University Salina and industry partner Westar Energy are increasing education about remotely piloted aircraft (RPA) — also known as unmanned aircraft systems (UAS) or drones — with the creation of a new flight facility.
The UAS Pavilion on K-State Salina's campus is one of the largest enclosed unmanned flight facilities in the nation, according to university officials. Measuring 300-feet-long by 200-feet-wide and 50-feet-tall, the structure will enable staff and students in K-State Salina's unmanned aircraft systems program to conduct flight training and research within steps of their lab space.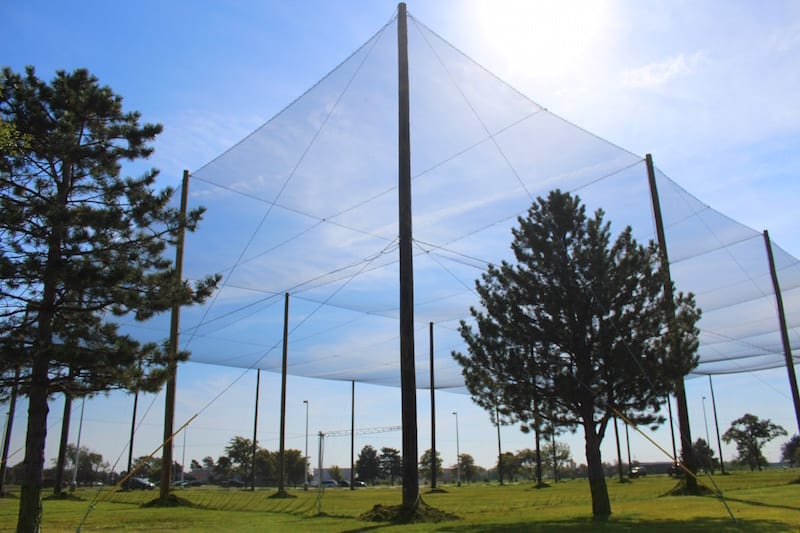 Since the program's inception in 2009, all RPA flight activities have had to operate offsite because of the campus's proximity to the Salina Regional Airport. According to FAA rules, unmanned aircraft cannot fly within five miles of an airport. The new structure ensures students and staff can avoid time and logistical challenges by flying onsite, officials noted.
The pavilion was built in September with the assistance of Westar Energy, Topeka, which has been an industry partner with K-State Salina for a few years. The electric utility company and the unmanned aircraft systems program have been collaborating on research and training related to the development of RPA technology in and for the electric power energy sector, primarily consisting of infrastructure inspection.
"The flight pavilion enables us to train employees in safer, more efficient ways to serve our customers, and helps prepare students with the emerging skills they will need in the workforce," said Jason Klenklen, supervisor of transmission maintenance for Westar Energy.
Along with the 25 wooden poles donated and installed by Westar Energy, the facility features custom fabricated netting panels on all sides and across the top. With the structure being contained but not completely closed off to outdoor elements, the facility does not block GPS signals on unmanned aircraft and allows flight missions to be conducted in various weather conditions.
"This facility enables us to offer student training, literally in our own backyard, in an open environment that ensures safe operations with no interference to other campus activities, including manned aircraft operations," said Kurt Carraway, K-State Salina's interim UAS program manager.
K-State Salina is the second university in the nation to offer a bachelor's degree in UAS, which began in 2011. Since then, the program has nearly doubled its enrollment every year. The initial degree focused on flight and operations, and in fall 2015, the campus added a second bachelor's degree in UAS design and integration. K-State Salina was the first entity in the United States to be awarded statewide access for unmanned flight operations by the FAA and is a member of the FAA Center of Excellence for Unmanned Aircraft Systems.