FREDERICK, Md. — On Sunday, Nov. 8, at 10 a.m., Lt. Col. Dick Cole, one of the two surviving "Doolittle Raiders" from World War II, will visit the Aircraft Owners and Pilots Association's (AOPA) National Aviation Community Center (NACC) at Frederick Municipal Airport along with a vintage B-25 warbird, "Panchito."
Cole, who recently turned 100 years old, was 26 when he volunteered for the secret "Doolittle Raid" in World War II where he and his fellow airmen took off from an aircraft carrier in B-25 bombers for targets in Japan.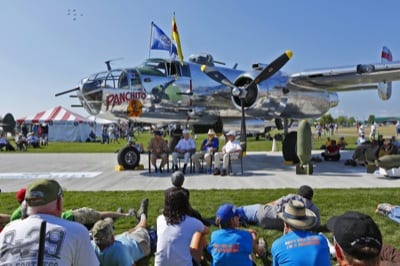 Cole served as Gen. Jimmy Doolittle's co-pilot on the raid and was the first to fly a twin-engine bomber from the deck of an aircraft carrier on a mission. He was one of 80 young airmen who went on the raid with 16 other B-25s.
Cole stayed in the theater and flew the "Hump" out of Burma with the Air Commanders before returning stateside where he got married, raised four children, and retired to a small ranch in Comfort, Texas, where he still lives today. Cole recently received the Congressional Gold Medal.
Attendees can view the B-25 at the NACC hangar, and the owner plans to offer paid rides on the warbird throughout the day.
Additionally, copies of Cole's book, "Dick Cole's War," will be available for purchase.
The event is free to the public.