Now available online is the November/December 2015 "Good Night" issue of FAA Safety Briefing, which focuses on general aviation night operations.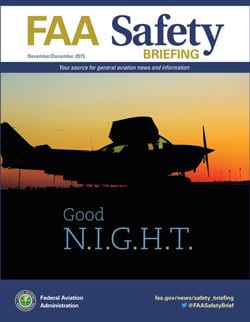 Articles address the importance of having both the right physical and mental preparation for flying at night, as well as how technology can help.
In this issue, we used the word NIGHT as a mnemonic checklist for all of the content in this night-themed issue. Feature articles include:
N = Nightlights: Using "Pilot Nightlights" to Find Your Way in the Dark,
I = Illusions: Nighttime Perils of Perception,
G = Gadgets: Glowing Gadgets and Gizmos,
H = Human Factors: How Night Can Be Hazardous to Your Flying Health,
T = Terrain Avoidance: What Does it Take to Use NVGs?