MT-Propeller has received an EASA STC for the next generation 5-blade scimitar composite Quiet Fan Jet propeller on the Cessna C208 Supervan 900 powered by Honeywell TPE331-12JR turbine. The FAA STC is in progress.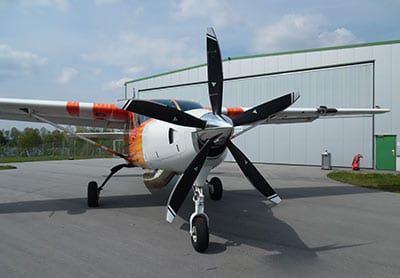 According to MT-Propeller Vice-President Martin Albrecht, the installation features the following advantages:
60% vibration reduction on aircraft fuselage;
Approximately 31 pounds less weight than the original propeller;
Ground roll is reduced by 10%, approximately 164 feet;
Climb performance is improved by 5%-8%;
Engine Start up is a third faster for cooler engine temperatures and longer battery life.
Due to the smaller diameter, the MT-Propeller for the Cessna C208 Supervan 900 has more ground clearance for less blade tip erosion, he added.