Ascension Air has launched Contrails, a personally-flown jet timeshare program featuring the six-passenger Eclipse 550 twin-engine jet from ONE Aviation Corp.
With the ability to fly at altitudes up to 41,000 feet at a max cruise of 430 mph, while only consuming 59 gallons of fuel per hour, the Eclipse 550 is an efficient twin-engine jet, with a maximum range of 1,125 miles, according to officials with Ascension Air.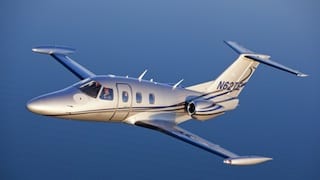 The company will offer the Eclipse 550 through timeshare, lease, and jetcard programs.
"Building on the great success of our Cirrus timeshare programs based in Atlanta and Ft. Lauderdale, our new Eclipse 550 Contrails program will bring personal jet transportation to a growing segment of aviators who want the flexibility and benefits of flying their own jet, without the worries of full jet ownership," said Ascension Air President and CEO Jamail Larkins. "Our professional owner services team offers easy fleet access, on-site concierge services, professional aircraft management, a safety pilot, and streamlined scheduling."
Ascension's new Contrails program may include type rating training in a flight simulator at SIMCOM in Orlando, Fla., or it can also be accomplished in the airplane and may double as Multi-Engine Rating training.
Program pricing includes timeshare, lease and jetcard possibilities. A 1/6 timeshare is $525,467, with a $2,995 a month management fee, and $620 an hour direct operating cost for 50 days per year. A 50-day per year lease costs $7,745 a month, with $104,000 down and $620 an hour. The Contrails JetCard is $40,000 for 25 hours.