L-3 Aviation Products reported at last week's National Business Aviation Association (NBAA) convention that its Lynx NGT-9000 and NGT-2500 models of Automatic Dependent Surveillance-Broadcast (ADS-B) products have been certified by the FAA to interface with the Aspen Evolution line of Multi-Function Displays (MFDs) and Primary Flight Displays (PFDs) for general aviation aircraft.
The interface will allow ADS-B weather and traffic data from the NGT-9000's or NGT-2500's ADS-B receiver to be viewed on the Aspen displays.
Additionally, Lynx NextGen Active Traffic from the NGT-9000+ model will display active Traffic Awareness System (TAS) traffic onto the Aspen products.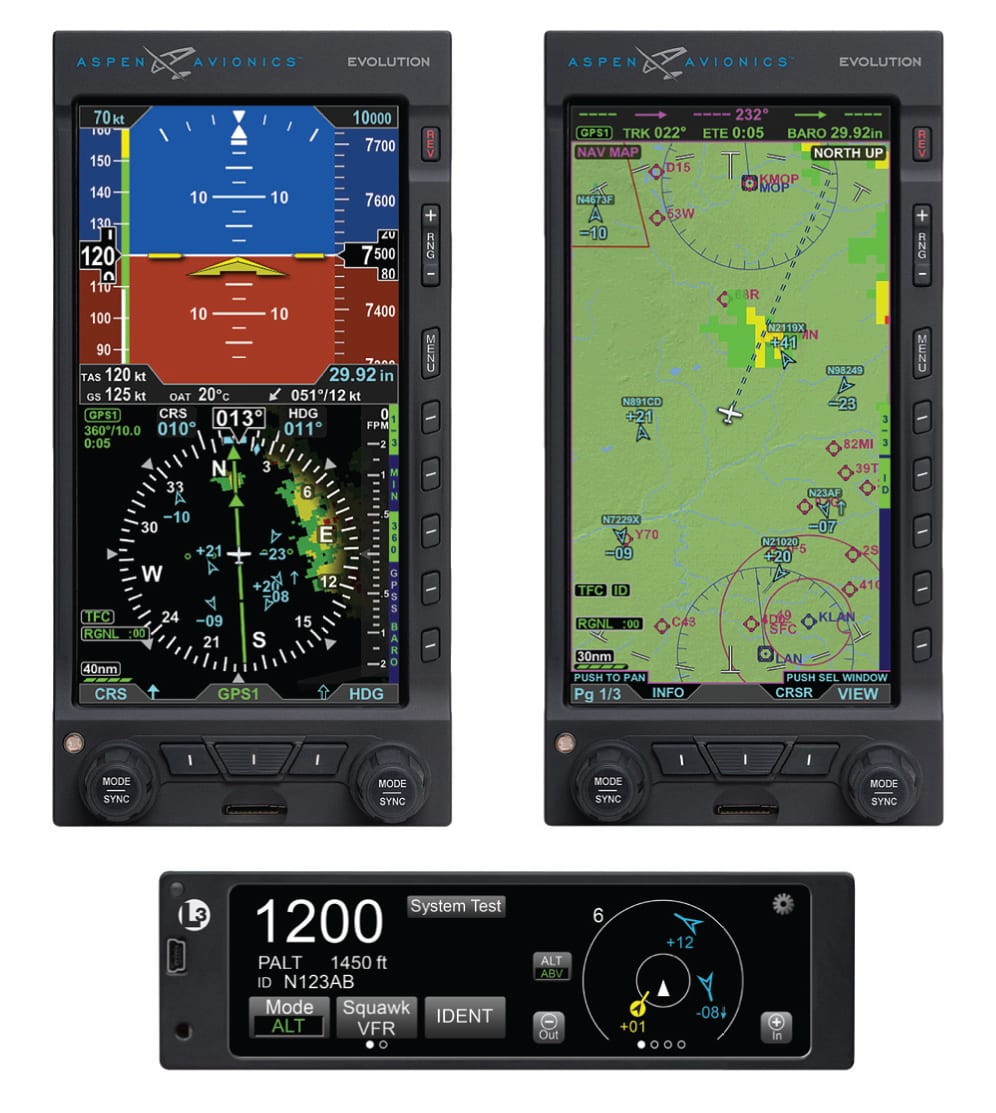 L-3's Lynx NGT-9000 and 2500 models port data to Aspen Evolution displays using the RS-232 interface. Traffic and weather data can be overlaid on Aspen's Horizontal Situation Indicator (HSI) and moving map windows. Traffic can also be viewed on Aspen's PFDs and MFDs.
While the Lynx NGT-9000 shows traffic and weather on its own touchscreen display, pilots can choose to view certain data on the Lynx display and other data on the Aspen display. This multi-display configuration allows pilots to view more information simultaneously and configure the data to their flying needs.
The Lynx NGT-9000 is a touchscreen Mode S Extended Squitter (ES) transponder that is also a display for ADS-B In data, including traffic, NEXRAD graphical and textual weather, as well as moving maps. Notices to Airmen (NOTAMs), Temporary Flight Restrictions (TFRs), and Winds and Temps Aloft data are also included.
The Lynx NGT-9000 is a dual-mode 1090ES ADS-B Out plus 1090 and 978 ADS-B In device that is designed for 14 V or 28 V installations. L-3 NextGen Active Traffic is an available option that is integrated directly in the Lynx NGT-9000, eliminating the need for a remote box.
Internal active traffic and/or ADS-B antenna diversity are available options for the NGT-9000. A Wi-Fi interface module provides connectivity to iPad and Android devices with applications such as Wing Pro and SkyRadar. All Lynx MSS models incorporate an embedded position source (WAAS-GPS) requiring no external GPS connections.
A free app is available that simulates the Lynx touchscreen on iPad and Android tablets. Please visit L-3Lynx.com for further details on the complete Lynx family of ADS-B products, as well as for links to the Apple and Android apps. The site also includes an interactive demo for those accessing it via a PC.