At the personal level, aviation can be described as a lifestyle. It's just like recreational boaters, Harley-Davidson riders, and RVers. It's a lifestyle.
And like our ground-bound brethren, businesses have grown up supporting this lifestyle.
Fifty years ago in 1965, responding to a need, Flo Irwin began cutting Sitka Spruce in her garage. Today, Aircraft Spruce & Specialty is a global powerhouse for builders and restorers.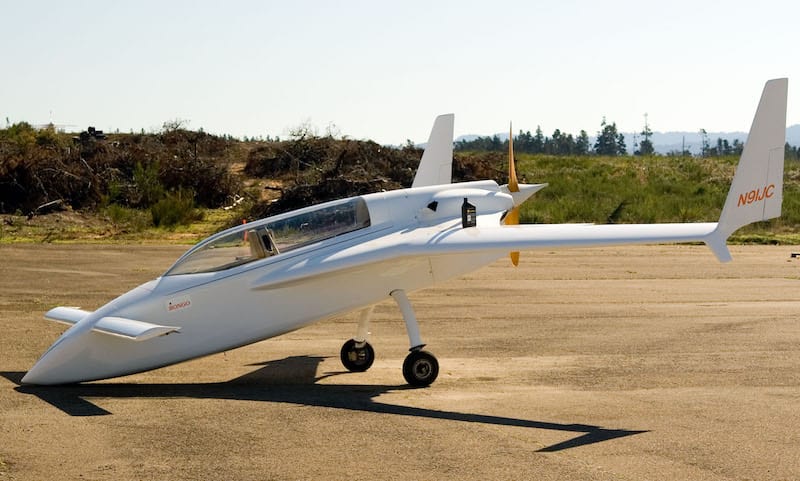 Ever seen a Rutan-designed Vari-Eze, Long-Eze, or Defiant at a fly-in or random airport ramp? Well, Aircraft Spruce most likely aided in the building of that airplane.
How do I know? Burt Rutan told me — and a few thousand friends — at this summer's AirVenture Oshkosh.
As I sat in the audience of the tribute to Burt Rutan at EAA's Theatre in the Woods at AirVenture this summer, one part of Aircraft Spruce's involvement in the Rutan phenomenon came into sharp focus.
Rutan stood on the stage and proclaimed that without Aircraft Spruce, Rutan Aircraft Factory designed aircraft wouldn't have enjoyed the success they have.
As the story goes, in 1975 Rutan asked Flo Irwin, Aircraft Spruce's founder, to purchase $100,000 worth of material and supplies specific for composite aircraft.
"Aircraft Spruce took a chance on this fledgling aircraft company," said Rutan.
"It was a phenomenon," said Jim Irwin, Aircraft Spruce's president and son of the founder. "For a while we sold more foam, fiberglass and resin than everyone else combined."
And as they say, the rest is history. At least in the case of the Rutan Aircraft Factory.
Few pilots in the United States, I'd hazard a guess, don't know the Aircraft Spruce & Specialty name. They do a masterful job of keeping their name in front of the flying public.
Whether it is through advertising (thank you Jim and Nanci Irwin), sponsoring events, or donating truckloads of supplies to the many hands-on builder workshops around the country, Aircraft Spruce gets — and keeps — its proverbial hands dirty in general aviation.
But Aircraft Spruce has made it easy for tens of thousands of builders, restorers and pilots to pursue the aviation lifestyle.
N2771C
Far from the Rutan end of the spectrum is 20-year-old Kyle Fosso. Starting at age 15 with a wrecked Cessna 170, Fosso, from Anacortes, Wash., has nearly finished a complete rebuild. Along the way, he's also earned his A&P certificate.
"I've bought lots of hardware, general parts, engine parts, wiring harness, mags, engine parts and more from Aircraft Spruce," said Fosso. "They made this rebuild so much easier."
Fosso has done a masterful job of documenting — with photos and commentary — his journey at his Facebook page. He's built a corp of supporters nearly 3,000 strong. It is worth a look and a share.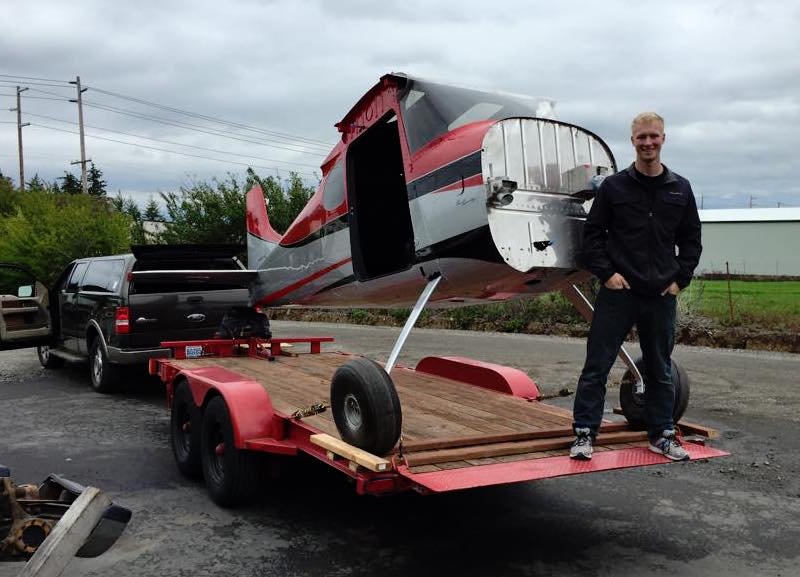 N71RG
Steve Wightman's PT-6-powered Super Seawind took 12 years to build. He's been flying it for three years now.
"I've spent six figures worth on supplies at Aircraft Spruce," noted Wightman. "My plane is very high quality, because Aircraft Spruce stocks high quality parts."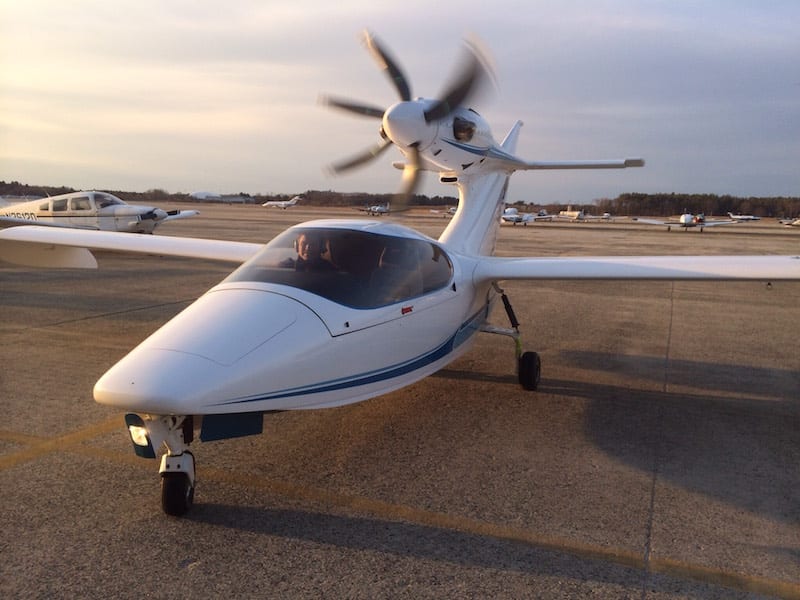 Wightman's plan with 71RG is to criss-cross North America to photograph "beautiful natural landscapes" and share the images with school kids across the United States.
EARLY BIRD
Inspired by the very early days of aviation, Galen Hutcheson "set out to experience the early days of flight, by designing and building a plane that could have come from that era."
A book from 1918 set the project in the "right direction."
And even though Hutcheson acquired many materials from the local hardware store and lumber yard, he purchased "all other supplies from Aircraft Spruce."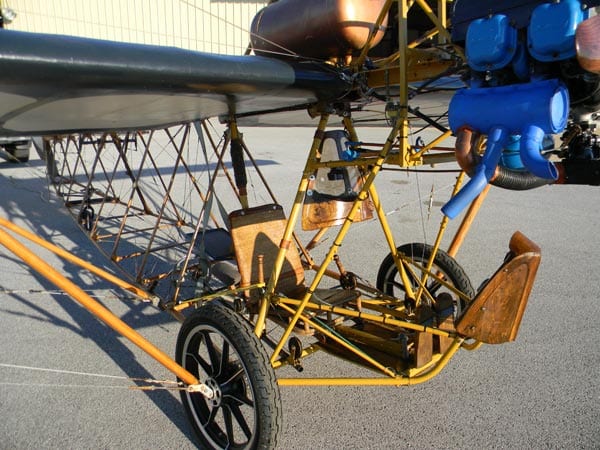 A Spruce Start
It is easy to look at Aircraft Spruce today and see its significant influence via sponsorships of the Aircraft Owners and Pilots Association (AOPA), Experimental Aircraft Association (EAA) and countless other organizations and events, but its influence is most significantly – and personally – felt in the workshops and hangars around the work…one builder, one pilot, one airplane at a time.
Here's to another 50 years, but first, a timeline of the first 50:
1965: Flo Irwin starts in the basement of the family home in Fullerton, Calif., selling aircraft spruce lumber for aircraft builders. Orders are taken by mail and phone. Flo hires one man to cut the spruce. A one page flyer is the first Aircraft Spruce "catalog."
1967-1969: Aircraft Spruce occupies a small building on Amerige Street in downtown Fullerton. The catalog expands by a few pages each year.
1970-1073: Aircraft Spruce moves to 128 W. Wilshire Ave. in Fullerton and adds steel and aluminum tubing and sheet, hardware, and more to the inventory. Bob Irwin (Flo's husband) leaves the aerospace industry to join Aircraft Spruce. Son Jim Irwin starts as a parts packer and wood cutter during high school.
1973: Aircraft Spruce moves to a 1924 citrus packing warehouse at 201 W. Truslow Ave. in Fullerton. The 27,000-square-foot building will remain the company's home for the next 24 years.
1975: Burt Rutan meets with Flo and Bob Irwin and asks them to buy large quantities of new materials, such as epoxies, fiberglass, and foams and be a distributor for his new Vari-Eze design. The Irwins say yes.
1975-1983: Hundreds of Vari-Eze, Long-EZ, and Quickie/Q2 kits are shipped worldwide. In 1982 Aircraft Spruce becomes a major sponsor of Burt Rutan's Voyager. 
1980: Jim and Nanci Irwin assume leadership of Aircraft Spruce.
1983: Flo and Bob Irwin, along with John Irwin, start ACS Products Co., in Lake Havasu City, Arizona. The manufacturing company remains a key supplier to Aircraft Spruce today.
1993: Aircraft Spruce Avionics opens at the Fullerton airport. It will move to the Chino Airport in 1995. 
1996: Aircraft Spruce acquires Alexander Aeroplane in Griffin, Georgia, and changes its name to Aircraft Spruce East. 
1997: Aircraft Spruce West moves from the packing house in Fullerton to a new 60,000-square-foot facility in Corona, Calif.
2004: Aircraft Spruce East moves to a new 60,000-square-foot facility in Peachtree City, Georgia.
2004-2009: The third generation of Irwins (Mike, Jeff, and Rob) join Aircraft Spruce following college. 
2006: Aircraft Spruce Canada opens in Mississauga, Ontario. This division moves to Brantford Airport in 2008.
2006-2014: Aircraft Spruce continues to grow its product lines; the website is upgraded several times; and Aircraft Spruce becomes a major sponsor for EAA and AOPA.
2015: Aircraft Spruce celebrates 50 years.