The U.S. Sport Aviation Expo staff has released the forums for the upcoming show, which is slated for Jan. 20-23 at Sebring Regional Airport in Florida.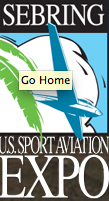 Topics range from Flight Testing 101 to Flying a Paraglider to Airpark Living to Flying After Maintenance.
With industry leaders like Mike Busch, Paul Dye, and Phil Lockwood headlining the presentations, the Expo will provide information for everyone from seasoned aviators to new aviation enthusiasts, organizers promise.
Go to SportAviationExpo.com/workshops-and-forums for the schedule of forums and brief descriptions of each session. Updates will continue to be made over the next month.