Daher's latest member in its very fast turboprop product line — the TBM 900 — has reached the century mark with the 100th aircraft delivery.
The milestone TBM 900 was received by U.S. customer Dale Schneider, a North Carolina businessman who is an active airplane and helicopter pilot, having logged more than 3,000 hours. Schneider's first aircraft was a TBM 700C2 version, which he purchased in 2006 and has flown some 1,000 hours.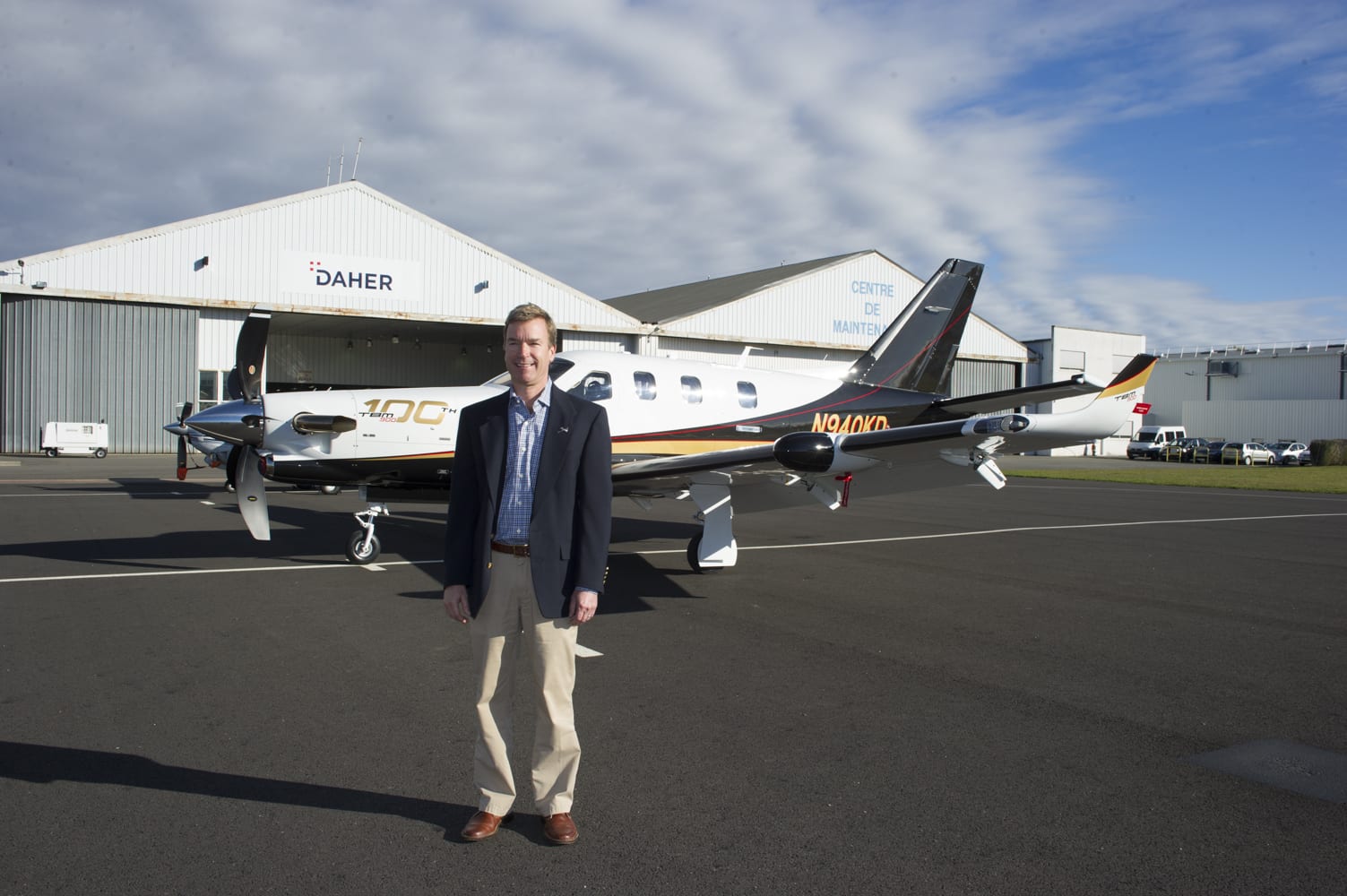 The TBM 900 is fastest-selling TBM ever, according to Nicolas Chabbert, senior vice president of Daher's Airplane Business Unit, who noted the program was officially unveiled only 20 months ago in March 2014.
Daher integrated 26 modifications to the TBM 900, including airframe aerodynamic optimization through the addition of winglets, along with the incorporation of a vertical tailfin strake and a new tail cone; the use of a five-blade composite propeller and redesigned spinner; and a revamped electrical system.
The TBM 900's top cruise speed is increased to 330 KTAS at 28,000 feet, and its maximum range is extended to 1,730 nautical miles with five adult passengers as a result of the fuel consumption reduction to 37 U.S. gallons per hour, company officials noted.
As the owner of the milestone 100th TBM 900, Schneider selected the new aircraft based on his experience with the TBM 700C2.
"I purchased the pre-owned TBM 700C2 because it was fast," he said. "I then joined the TBM Owners and Pilot Association (TBMOPA) and enjoyed becoming a part of the TBM flying community. So when the time came to replace my airplane, buying a brand new TBM 900 was the obvious choice."
Schneider received his TBM 900 at Daher's production facility in Tarbes, France and participated in the aircraft's ferry flight from Europe to the U.S.