FORT LAUDERDALE — Matthew Schepers recently joined Banyan Air Service as director of MRO sales.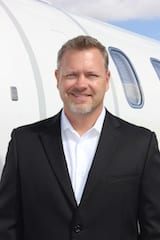 His role is to lead the MRO sales team and generate new business for Banyan's maintenance and avionics departments. He also is responsible for developing partnerships with vendors, company officials noted.
For the past 10 years, Schepers worked at Duncan Aviation in Lincoln, Neb., in a variety of positions, including senior sales Bombardier interior and paint, sales manager paint and interior sales, and NetJets program manager. Prior to that, he spent six years in healthcare sales.
He holds a Bachelor of Science degree in business and technology with a major in business administration and human resources from University of Nebraska-Kearney.