Sporty's has teamed with Prevailance Aerospace to offer flight training to general aviation pilots looking to hone their skills.
Two courses are offered, taught by former military aviators, to address leading causes of general aviation accidents while improving basic airmanship skills.
"These are TOPGUN pilots – graduates of the Navy Fighter Weapons School," says Sporty's Academy President Eric Radtke.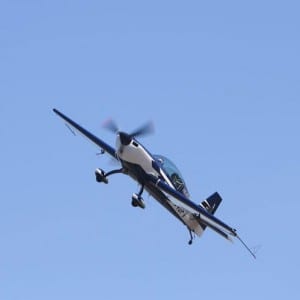 "All Prevailance instructors have thousands of flight hours in a wide variety of aircraft, including multiple aviation combat tours and tactical jet training. In short, they are the real deal and exactly who you would want in an instructor."
The Advanced Upset Prevention and Recovery Training Course addresses the #1 cause of fatalities in general aviation: Loss-of-Control Inflight. After a ground school, three training flights are conducted to familiarize the pilot with the advanced handling characteristics of the Extra 330LX through a variety of flight scenarios requiring specific skills to ensure an effective recovery. This program allows the pilot to safely experience flight regimes and conditions that are not feasible in most airplanes.
The Unusual Attitude Training Course provides exposure to edge-of-the-envelope maneuvering in a safe and controlled environment utilizing the Extra 330LX. Following a two-hour ground school, the student participates in two training flights over two days including aircraft familiarization, and an introduction to aerobatic maneuvers including the aileron roll, loop, barrel roll and more.
The Advanced Upset Prevention and Recovery Training Course is available for $3,495 while The Unusual Attitude Training Course is available for $2,395.
Training takes place at the Prevailance Aerospace training facility at the Chesapeake Regional Airport (KCPK) in Chesapeake, Va.