The Aero Club of New England (ACONE) will present the Godfrey L. Cabot Award to Clay Lacy on Friday, June 10, at the Harvard Club in Boston.
The award will be presented to Lacy in recognition of his lifetime achievements in many facets of aviation, including aerial cinematography, test pilot, air race champion, founder of Clay Lacy Aviation, and holder of 29 world speed records.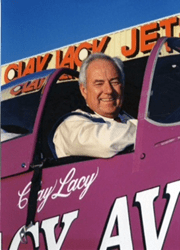 In partnership with Continental Camera Systems, in the early 1970s Lacy revolutionized air-to-air cinematography with Astrovision, a relay lens system with periscopes mounted on the top and bottom of the plane's fuselage. The system is able to rotate 360° in any direction and tilt up or down with no speed or altitude restrictions.
Lacy has filmed more than 3,000 projects for the military, the feature film industry and television. He is best known for his work in the films Top Gun, The Great Santini, Armageddon, Cliffhanger, Flight of the Intruder and Behind Enemy Lines.
While flying for United Airlines and managing his private charter business, he flew a P-51 Mustang in air races across the U.S. and placed first at the Reno Air Races in 1970.
Lacy holds 29 world speed records, including in 1988 an around-the-world record flying a Boeing 747SP named Friendship One that raised $530,000 for children's charities.
The award, named to commemorate Dr. Godfrey L. Cabot (now deceased), is presented each year by ACONE to an individual or team who has made unique and unparalleled contributions to encourage and advance aviation and space flight.