Now online is the March/April 2016 issue of FAA Safety Briefing, which focuses on the leading cause of general aviation accidents – loss of control.
Articles will help pilots better identify loss of control warning signs, as well as fine-tune mitigation strategies and recovery techniques that can improve flight safety in these situations, according to FAA officials.
Feature articles include:
May the Force(s) Be With You – Using the Four Forces to Maintain Aircraft Control (p 10),
Going Up? – Taking Control of Your Takeoffs (p 14),
Surprise! – Combatting the Startle Effect (p. 18)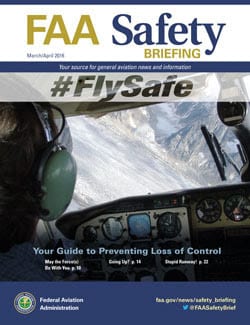 In this issue's Jumpseat department (p. 1), Flight Standards Service's Director John Duncan reviews the what, why, and how of loss-of-control events, while Checklist (p 21) highlights some important FAA resources that can help you expand your knowledge on "staying in control."
Check out the new Roll of Honor that lists all of the 2015 FAA Wright Brothers Master Pilot and Charles Taylor Master Mechanic award winners (p 26).
Also, visitors to SUN 'n FUN (April 5-10) will find a list of scheduled FAA safety forums on page 5.