HOUSTON — The Lone Star Flight Museum has taken the next step toward opening its new facility, selecting D.E. Harvey Builders, as general contractor after a public, competitive bid process.
The new 130,000-square-foot museum will be located at Ellington Airport, future home of the Houston Spaceport and one of Texas's oldest continuously operating airfields.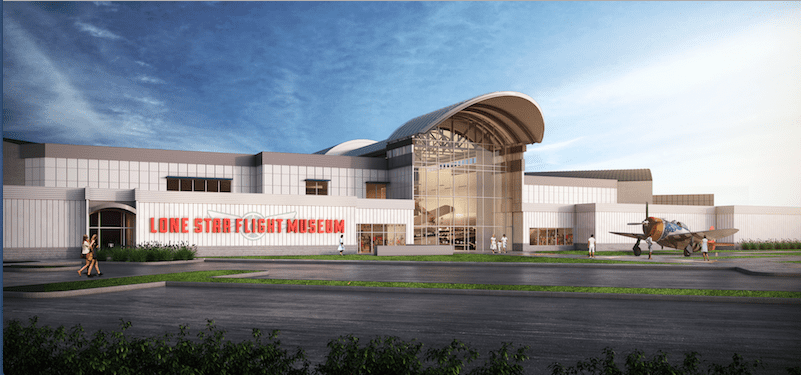 "Harvey Builders is honored and privileged to be involved with a group of patriots dedicated to the preservation of the rich history of aviation and the enrichment of young minds through hands on educational programs focused on the science, technology, engineering and math concepts that make flight possible," said Joe Cleary, President of D.E. Harvey Builders.
D.E. Harvey Builders' portfolio includes projects for the Smithsonian Institution, Continental Airlines, NASA, and the Austin Music Hall.
"We are delighted to have a company like DE Harvey add its experience and expertise to our team," said Scott Rozzell, chairman of the Lone Star Board of Directors. "Together we are building a museum that will inspire and educate our community's youth while celebrating and preserving Texas' rich aviation heritage.
Harvey joins Webb Architects, exhibit designers D│G Studios, and project manager The Sarrazin Group, in a team that will be working with the staff, volunteers and supporters of the museum to create a state-of-the-art facility that will include the nation's second Aviation Learning Center.
Construction is scheduled for completion in early 2017.
Located in Galveston, Texas, since 1992, the Lone Star Flight Museum houses an award-winning collection of historically significant aircraft. It also is home to the Texas Aviation Hall of Fame, which honors the legacy of famous Texans. Among the 61 inductees are President George H. W. Bush (Honorary chair of the museum's capital campaign), Bessie Coleman, Howard Hughes, World War II aviators Senator Lloyd Bentsen, John F. Bookout, Jr., Tex Hill, Ben Love, Tom Landry, the Doolittle Raiders, Tuskegee Airmen and the Women Airforce Service Pilots, astronauts Alan Bean and Gene Cernan.
After Hurricane Ike did significant damage in 2008, a decision was made to move the museum inland and expand its reach and educational mission. An initial $25 million Phase 1 capital campaign to build a new facility at Ellington Airport was completed in 2015. A $10 million Phase II campaign is underway.