Avidyne Corporation reports that its IFD540/IFD440 FMS/GPS/NAV/COM systems can now integrate wirelessly with Flight Plan, provider of the FltPlan.com website and FltPlan Go application, and ForeFlight.
"All Avidyne IFD systems include a versatile, open-architecture wireless interface, which is a key component in our overall connectivity-in-the-cockpit strategy," said Avidyne President and CEO Dan Schwinn.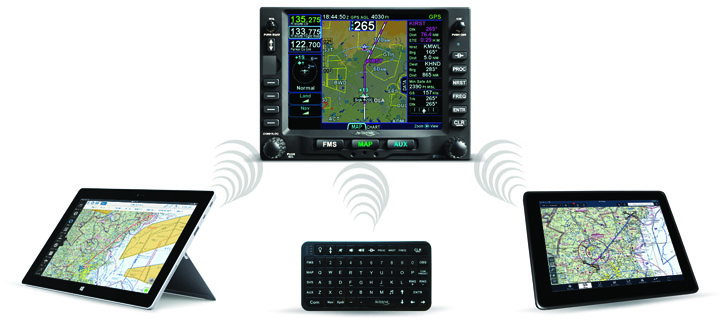 "We have made available a Wireless Connectivity Software Developer Kit (SDK) and we are in talks with many other app developers, so you can expect that many more announcements for additional Bluetooth/Wi-Fi application support and services for the IFD540/440 will be forthcoming," he added.
"We are excited to develop connectivity with the IFD540 and IFD440 for our FltPlan Go customers," said Kenneth Wilson, president of FltPlan.com. "Wireless connectivity in the cockpit provides pilots using FltPlan with even more utility and enhanced safety."
FltPlan Go running on an iPad, Android tablet, and Windows 10 tablet can wirelessly display GPS position and flight plan information from the Avidyne IFD540 or IFD440 running the current v10.1 or later software. Many additional capabilities will be added in a future IFD software release for the IFD540/440, company officials noted.
"We welcome Avidyne into the ForeFlight Connect program," said Tyson Weihs, co-founder and CEO of ForeFlight. "Through this integration, ForeFlight customers flying with Avidyne's next generation navigators benefit from receiving flight plan and GPS information for the moving map display. We look forward to unlocking more function over time that makes planning, flying, and flight logging with Avidyne avionics a joy."
Initial connectivity will allow iPads with the newly-announced ForeFlight version 7.6 to wirelessly receive and display GPS position and flight plan information from Avidyne's IFD540/440 units running the current v10.1 software. Additional capabilities will be added in an upcoming IFD v10.2 software release, company officials said.