The Third Edition of the Aviation Maintenance Technician Oral & Practical Exam Guide has been updated to reflect the most current FAA PTS and Guidance Documents.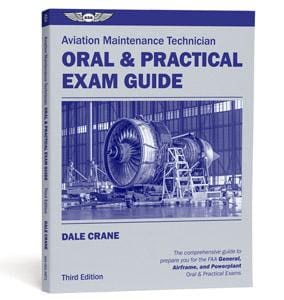 The original text by Dale Crane has been edited by Raymond E. Thompson of the College of Aviation, Western Michigan University, and covers the certification process, typical projects with required skill levels, and practical knowledge requirements in a question-and-answer format accompanied by references for further study.
The AMT oral and practical tests are different from the FAA Knowledge Exam where applicants interact with a computer with no face-to-face personal communication. For the O&P Exam, applicants work one-on-one with an experienced mechanic evaluator who not only judges their mechanical skills, but observes how they think and approach problem-solving. The evaluator determines whether or not the applicant possesses the knowledge and skill level needed as an entry-level technician, as defined by the PTS.