FreeFlight Systems reports that engineering and certification company CMD Flight Solutions has obtained an AML STC for the installation of a FreeFlight 1203C SBAS/GNSS sensor paired with Rockwell Collins' TDR­-94/94D transponders.
The pairing is a cost effective way to help aircraft owners meet the ADS­-B mandate, according to company officials.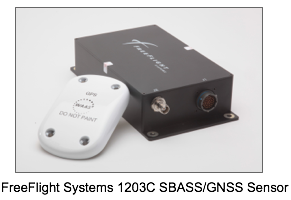 "We are pleased to be a part of the CMD Flight Solutions AML STC, which provides cost effective solutions for more than 100 different models of Part 25 aircraft," said Pete Ring, FreeFlight Systems' Director of Sales and Marketing. "The CMD Flight Solutions approach is inline with our goals of making the full benefits of rule compliant ADS­-B operations available to all aircraft types, with minimal disruption to existing aircraft avionics."
The FreeFlight Systems 1203C SBAS/GNSS sensor was designed to be modular and integratable with various other avionics, company officials noted.
As a certified ADS­-B position source, approved for all ICAO jurisdictions, the integrated 15­-channel 1203C SBAS/GNSS sensor is part of a fully rule­-compliant ADS­-B Out system when paired with a compatible, certified Mode S transponder like the TDR­94/94D. The 1023C continues to providing reliable service to fleets worldwide and also serves as an approved position source for CPDLC, TAWS/FMS, RNP and other NextGen applications.