Aspen Avionics reports has received a Supplemental Type Certificate (STC) for installation of its Evolution Backup Display.
The Evolution Backup Display is a digital, independent primary flight display (PFD) designed to replace mechanical backup instruments and the associated vacuum system supporting those instruments in Part 23 electronic flight instrument system (EFIS) installations.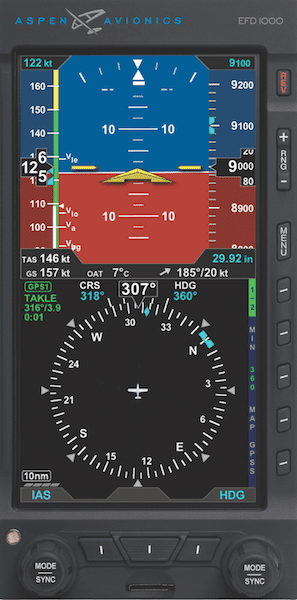 The Evolution Backup Display comes standard with a large capacity emergency power source providing two hours of continuous operation.
The system is available in portrait orientation with basic or advanced configurations:
Basic – $5,995
Attitude, altitude and airspeed tapes
Slaved directional gyro (DG)
Turn rate indicator
Slip/skid
Vertical situation indicator (VSI)
GPS flight plan overlay
Advanced – $8,995
Basic configurations, plus:

Dual radio magnetic indicators (RMI)

Horizontal situation indicator (HSI)

Localizer and glide slope indicator

Emergency GPS