Red Bull Aces, the world's first-ever wingsuit slalom competition, featuring athletes racing four at a time through a mile-long aerial course, airs Saturday night, May 1,4 at 11 pm ET/8 pm PT on FS1.
You can see a preview of the action here.
Held in Cloverdale, Calif., the best wingsuit athletes in the world from an international field of 40 men and women from 18 countries, jump in heats of four from a civilian Bell Huey helicopter at an altitude of 8,000 feet above sea level, and must weave between five 112-foot gates positioned thousands of feet in the air.
All the gates are equipped with GPS positioning, and the competitors each wear a GPS transmitter to determine whether they pass through the gates properly.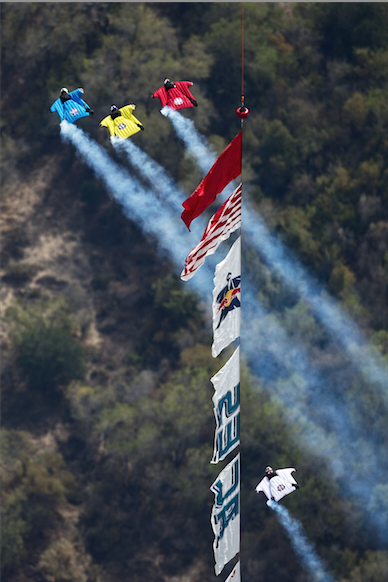 The winner is based not only on how quickly the finish line is crossed, but also on how many gates he/she correctly passes through. The athletes then pull their parachutes and descend under canopy back to the takeoff area.
Top competitors include the USA's Andy Farrington, Noah Bahnson, Matt Gerdes, Scott Palmer and Scotty Bob, challenged by Norway's Espen Fadnes, Sweden's Petter Mazzetta and Australia's Rex Pemberton.
"Just like in other forms of racing – especially motorsports – the athletes fight for position, sometimes even resulting in mid-air contact," said FS1 analyst Luke Aikens. "An added challenge is that the gates – suspended by helicopters – shift with the wind. So each run – while as similar as possible – has its own unique track, forcing the athletes to adjust on the fly."
Skydivers exit a plane or helicopter wearing special jumpsuits that shape the human body into an airfoil (or human wing), creating lift and, with it, "human flight." These winguits allow their pilots to zoom forward at a three-toone ratio, meaning for every foot they fall, they advance forward three feet. And by manipulating their bodies – streamlining them to speed up, for example – their aerobatic agility is similar to that of other non-motorized aircraft.
For a full calendar of Red Bull Media House sports productions on FS1, fans can set personal alerts at:www.foxsports.com/RedBullSports.
After Saturday's FS1 broadcast, the event will be available on demand starting at 10 pm PT on Redbull.tv.