Garmin has introduced the D2 Bravo Titanium, an aviation GPS smartwatch.
Utilizing premium materials like a hybrid titanium band and gunmetal bezel, sapphire lens and high-resolution color display, D2 Bravo Titanium combines GPS wearable technology with multisport activity profiles like golf and advanced fitness training.
It incorporates Garmin Elevate wrist-based heart rate technology allowing customers to measure heart rate 24/7.
Automated flight logging, the display of Terminal Aerodrome Forecasts (TAFs) and an aviation-tailored customizable watch face that allows customers to input the tail number of their aircraft to D2 Bravo Titanium feature set.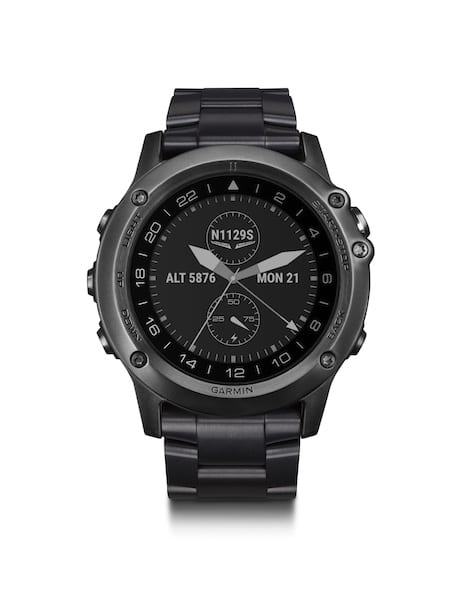 D2 Bravo Titanium incorporates a worldwide airport database and support for up to 18 languages. When paired with a compatible smartphone, pilots can view aviation weather reports (METARs) and TAFs in plain language, which are color-coded to indicate visual or instrument meteorological conditions (IMC).
It also features the option to create flight plans and includes both an altimeter with an adjustable barometric setting and a compass with an HSI and moving map. Dedicated direct-to and nearest buttons along the side of the bezel allow for immediate navigation commands.
Similar to Garmin portables, customizable data fields include Estimated Time Enroute (ETE), Estimated Time of Arrival (ETA) and more, company officials note.
D2 Bravo Titanium provides a preset oxygen reminder based on barometric altitude when operating at or above 12,500 feet, serving as a back-up cabin pressure monitor in pressurized aircraft. Pilot-selectable altitude alerting also notifies pilots when they reach or leave a preselected altitude.
Additionally, D2 Bravo Titanium provides the option to set up supplementary vibrating alerts to serve as a reminder to perform time-sensitive operations, such as switching fuel tanks in-flight.
D2 Bravo Titanium also integrates with other Garmin products, including VIRB XE, which allows customers to start and stop video, view elapsed time for active video recording and capture still photos.
Suggested retail price is $899.