In the newly released "Unusual Attitudes," Martha Lunken has selected her favorite magazine columns to share with a wider audience.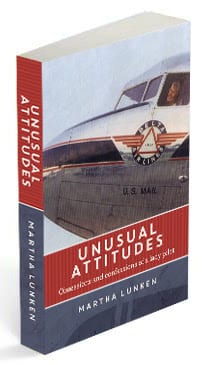 In the book, Martha takes her readers along as she flies a variety of popular and not-so-popular aircraft. From her tales as an FAA examiner to her experience operating Miss Martha's Flying School to unforgettable flights with whom Martha calls her "forever friends" in aviation, she shares it all.
Interspersed with the stories is some real-life advice from Martha, valuable to
those who interact with flight instructors, the FAA, and other airplane owners and pilots. Her opinions may anger you; these stories may make you laugh or cry, but each chapter of Unusual Attitudes is filled with the passion that Martha brings to her flying.
Unusual Attitudes is available for $19.95. Sporty's and Martha have partnered to provide buyers a bonus. Between now and Wednesday, June 29, 2016, all books purchased will be autographed by Martha.