NEW YORK, New York — At an auction slated for June 15, Lion Heart Autographs will offer a  piece of the original silver-colored cloth from the fuselage of the "Spirit of St. Louis" signed by Charles A. Lindbergh, just days after his historic trans-Atlantic solo flight.
The event at Invaluable.com, "Five Centuries of Autographs: Ferdinand & Isabella (1492) to the Present," begins at 1 p.m. Eastern time.
According to auctioneers, the section of cloth, signed "Charles A. Lindbergh," is of extraordinary rarity because no other examples signed by Lindbergh when he landed in Paris are known.
Tens of thousands of spectators waited for "Lucky Lindy" to touch down at Le Bourget airfield outside Paris and as the crowd stormed the plane some tore off pieces as souvenirs. The Spirit of St. Louis was wheeled into a hangar for repairs and over the next several days major portions of the cloth fuselage were replaced.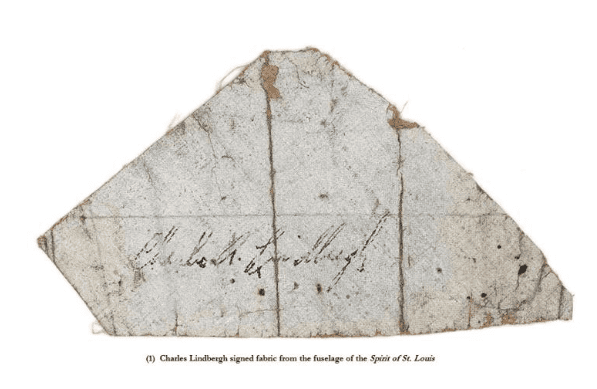 A small triangular piece of fabric was rescued by an anonymous individual connected with the company repairing the aircraft who then obtained Lindbergh's signature when he returned to inspect his plane before flying on to Belgium a few days later.
The auction lot includes additional unsigned swatches of fabric and several unpublished photographs of the plane in the hangar that reveal the aircraft's damage following its historic arrival in Paris on May 21, 1927.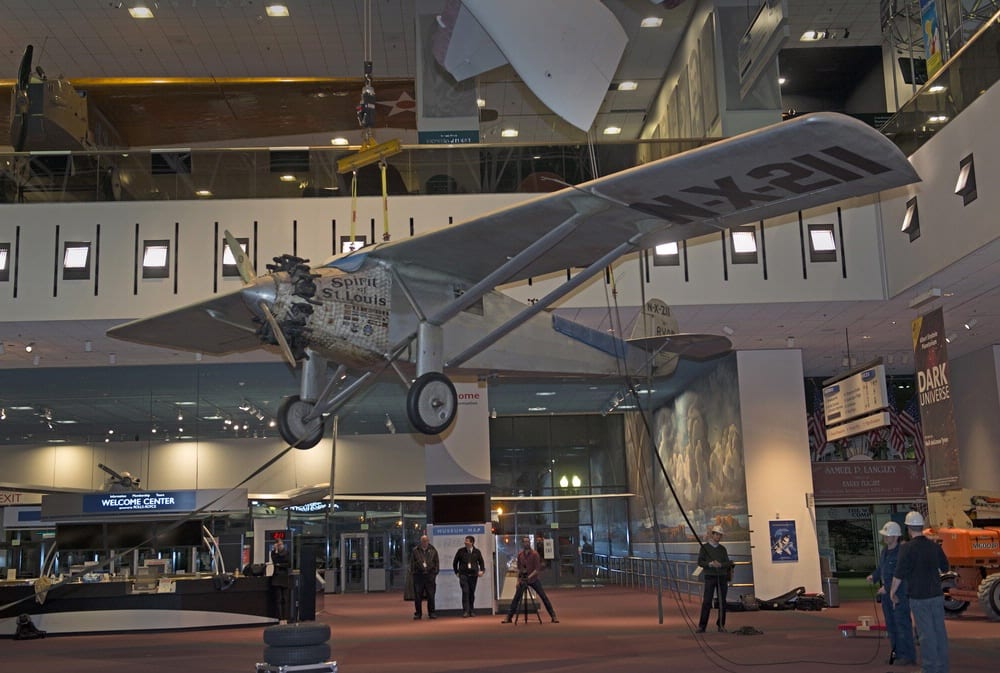 The signed triangle of silver fabric is identified on the back in an unknown hand "Toile de France" (French canvas). A smaller rectangle of similar fabric in unused condition is similarly identified as "Toile Americaine," and was likely taken from the cloth used to replace the plane's original fabric-covered fuselage.
This artifact is accompanied by unpublished photographs depicting The Spirit of St. Louis cordoned off in the hangar with the plane's damaged exterior clearly visible.
The sale includes more than 140 items. Other highlights include a 1797 letter by Josephine Bonaparte requesting compensation for a Bolognese farmer whose hemp was confiscated by Napoleon's army during the first campaign against the Papal States; German engineer Graf von Zeppelin's 1903 appeal to the German people to fund future development of his navigable airship; a card inscribed twice by Helen Keller; a handwritten Jackie Kennedy letter on her personal Fifth Avenue stationery, sending thanks for a book; and six ink drawings by President Ronald Reagan on a sheet of White House stationery including a horse's head, a self-portrait as a cowboy and cartoon characters including Fu Manchu and Jiggs.