MT-Propeller has received an FAA STC for the next generation Quiet Fan Jet 5-blade scimitar composite propeller MTV-27-1-E-C-F-R(P)/CFR210-58d on the HBC King Air F90.
The propeller has now been STC'd for the Beech King Air B90, E90, C90, C90A, C90GT, C90GTi, and F90 by the FAA and EASA.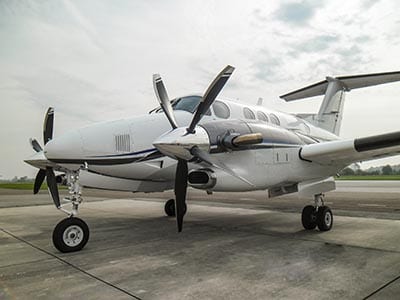 According to MT-Propeller President Gerd Muehlbauer, the installation features:
Damping characteristics for almost vibration free propeller operations;
Bonded on nickel alloy leading edge for erosion protection of the blades;
Performance improvement (5% takeoff and climb, 2-3 kts cruise with 1,900 rpm);
No propeller speed restrictions on ground while operating in low idle;
More ground clearance for less FODs;
 Lower ITTs during start-up for less engine wear;
Cabin noise and vibration reduction;
Weight saving of 28 pounds.