SEATTLE — The Museum of Flight recently opened its new, three-acre Aviation Pavilion.
The nine-story roofed outdoor gallery doubles the museum's exhibit space with the biggest expansion in its 51-year history.
The Pavilion exhibit focuses on the development of large aircraft and commercial airliners from the 1930s to the present, and includes planes that cannot be seen anywhere else, according to museum officials.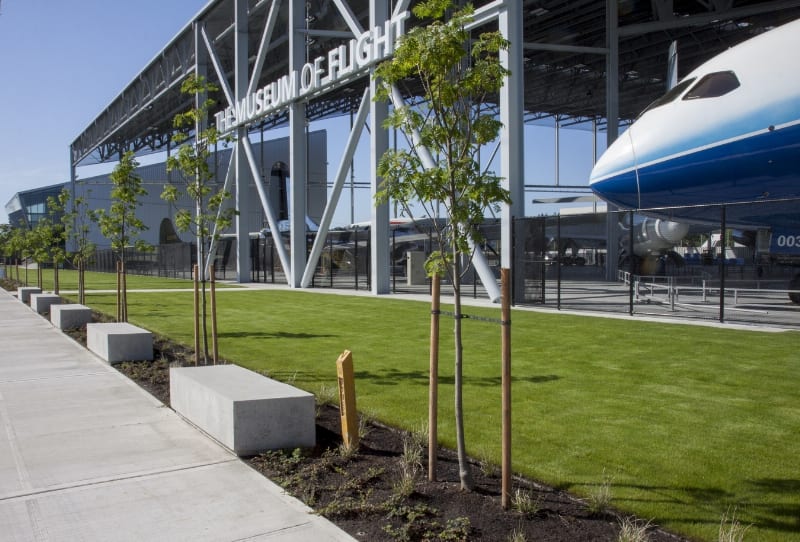 The Museum of Flight's Aviation Pavilion is a covered, outside gallery with 15 rare and unique commercial and military airplanes. The Pavilion also offers the first-ever exhibit about the business of air freight, the FedEx Air Cargo exhibit, housed within a 34 foot fuselage section of a former FedEx Boeing 727 freighter. The Museum's Boeing 747 prototype, Boeing 787 Dreamliner, and Concorde will be open to the public daily in the Pavilion.
For the first time, the museum's collection of large commercial aircraft can be seen in one place. The airliner exhibit includes the world's only presentation of the first Boeing 737 and 747 jets, the rare Douglas DC-2 airliner from the 1930s, the only Concorde on the West Coast, and the new Boeing 787 Dreamliner.
The military line-up includes three big bombers — World War IIs B-17F Flying Fortress and B-29 Superfortress, and the Cold War's B-47 Stratojet, plus jet fighters spanning the wars from Korea to the Persian Gulf.
The museum's rare, flyable 1932 Boeing 247, Boeing 727 prototype, and the first jet Air Force One will be moved from the museum's airpark to the Pavilion in the fall.
The Pavilion also offers a café and children's play area with a mini airport terminal under the wings of the first 747 Jumbo Jet.
Founded in 1965, the independent, non-profit Museum of Flight is one of the largest air and space museums in the world, serving more than 560,000 visitors annually. The museum's collection includes more than 160 airplanes and spacecraft, from the first fighter plane (1914) to today's 787 Dreamliner.