Hartzell Propeller and airplane modifier Texas Turbine Conversions are collaborating on a Supplemental Type Certificate for a new four-blade composite swept propeller for single-engine Supervan 900 aircraft. The propeller STC is expected fourth quarter 2016.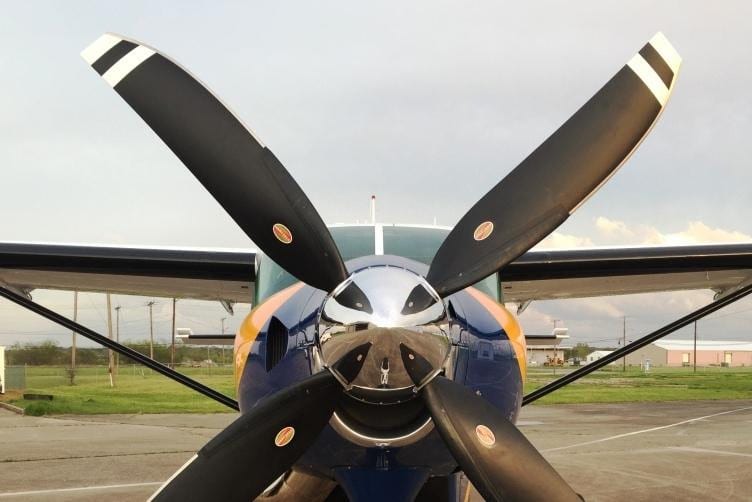 "The Hartzell/Texas Turbine program matches engine upgrades for converted Cessna Caravans with structural composite propellers especially designed for the Supervan 900," said Hartzell Propeller President Joe Brown. "Advanced aerodynamics and sophisticated manufacturing processes increase performance and deliver extraordinary reliability for the 110-inch diameter propeller, which is 60 pounds lighter than the prop it replaces."
Performance Boost
"The combination of the 900 SHP Honeywell TPE331 engine and optional new four-blade composite propeller from Hartzell on the Supervan 900 flat out gets after it," said Texas Turbine Conversions President Bobby Bishop. "The Supervan 900's new lighter weight Hartzell prop helps the airplane distance itself even further from any possible competitors as the world's best performing Cessna Caravan."
The new Hartzell Propeller composite prop installed on a Supervan 900 will be displayed at EAA AirVenture held in Oshkosh July 25-31 at the Texas Turbine Conversions exhibit #308 in the Main Aircraft Display area.
Flight Testing
Texas Turbine Conversions recently completed vibration flight-testing of the new 110-inch diameter Hartzell composite propeller. The new prop will also available for retrofit on 90 Supervan 900 conversions already in service.
Located in Denison, Texas, Texas Turbine Conversions has modified aircraft with the Honeywell (Garrett) TPE331 engines for more than 20 years. The company holds multiple STCs for engine modifications on numerous aircraft platforms. It specializes in deHavilland DHC-3 Otter and the Cessna 208/208B Caravans conversions.