WHEELING, Ill. – Pilots and aircraft owners at Chicago Executive Airport have created a petition to encourage the airport's board of directors to install self-serve aviation fuel on the airport.
"It's kind of as if your town wouldn't allow gas stations to offer self-serve pumps," said Madeleine Monaco, president of the Chicago Executive Pilots Association (CEPA). "The result would be people taking their business to neighboring towns to save on gas prices. The same thing is happening at Chicago Executive."
One day after launching the petition, pilots from as far away as California and South Carolina have already weighed in.
"I have family in Chicago and fly often to area airports. Fuel prices have kept me from KPWK in the past," wrote Paul Lehman of Salt Lake City, Utah.

"I love flying into KPWK, but the prices are too high. I will fly elsewhere for my Chicago trips because of it," said James Schumer of Mansfield, Ohio.
High Prices for Years
Pilots, both based at PWK and visiting from elsewhere, have endured high prices at the airport for years.
"A recent analysis of 100LL aviation fuel prices in the Chicago area shows that pilots using Chicago Executive pay 48% higher prices than the median in the area," said Steve Whitney, a spokesman for the group. "And that's counting prices at the big commercial airports, O'Hare and Midway."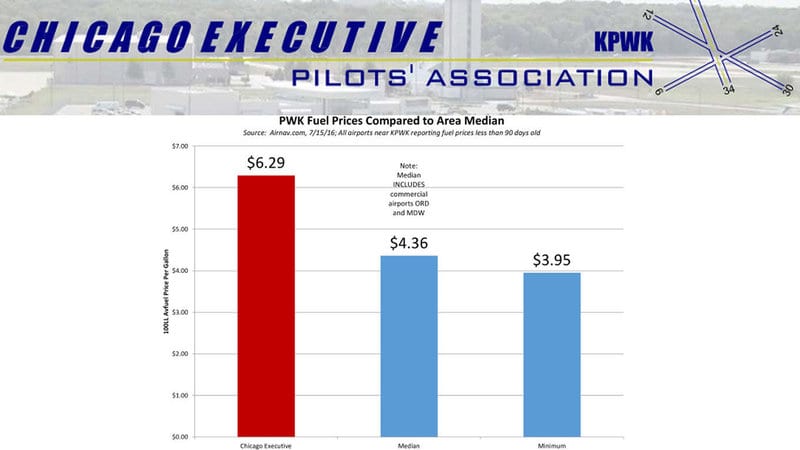 The high prices coincide with a significant decline in airport operations. Recently, the airport decided to decommission parking area 3 due to underutilization.
Board Meeting

Wednesday

– Pilots Encouraged to Attend
Besides the petition, CEPA is encouraging members to attend the airport board meeting on Wednesday, July 20, at 6 p.m. (1020 South Plant Rd, Wheeling, Ill.) where board members will discuss "a Self-Serve Avgas Facility."
According to the meeting agenda, the board "may take action after the discussion."
"We've been working on this for years," said Monaco, "and we're hopeful, though not confident, that they will do the right thing."