Garmin has introduced an expanded Connext portfolio of connectivity solutions with the Flight Stream 510 MultiMediaCard (MMC), which enables wireless database transfer capabilities between the Garmin Pilot app on a mobile device and the GTN 650/750 touchscreen navigators.
The Flight Stream 510 card installs into the existing card slot of the GTN and enables Garmin Database Concierge, the seamless updating of databases throughout the cockpit between GTN touchscreen navigators, as well as G500/G600 glass flight displays.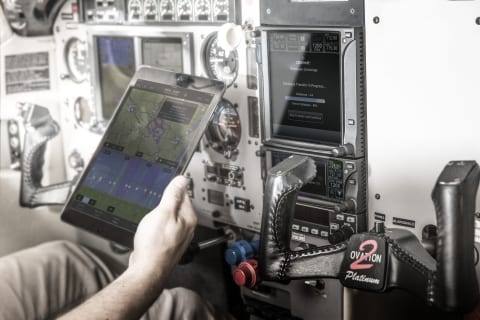 In addition to Database Concierge, Flight Stream 510 enables two-way flight plan transfer between the GTN 650/750 and shares traffic, weather, GPS information, back-up attitude information and enables text messaging via compatible mobile devices and avionics.
Flight Stream 510
Flight Stream 510 is a patented Wi-Fi and Bluetooth-enabled MultiMediaCard (MMC) that enables communication between the GTN 650/750 series and two compatible Apple or Android mobile devices operating Garmin Pilot.
Once initial set-up between Connext and Flight Stream 510 is complete, customers can optimize Garmin Pilot to automatically download the most up-to-date information within the application every time a new database cycle is available.
Databases that are downloaded prior to their effective date remain in the standby position within the GTN 650/750 and automatically become active on the current date. Once a connection is established between Garmin Pilot and Flight Stream 510 at the aircraft, pilots are prompted to transfer the most up-to-date databases to the GTN, where the database transfer occurs in minutes.
Flight Stream 510 wirelessly transfers the following databases to the GTN: Jeppesen NavData or the new Garmin Navigation Database, Obstacle, Terrain, SafeTaxi, FliteCharts and Basemap.
Customers with any combination of GTNs or GTNs with G500/G600s receive additional benefits with database synchronization and Flight Stream. Once customers complete the wireless database transfer to the GTN, the databases are automatically transferred to the G500/G600 and synced across both systems to ensure database information matches and is up-to-date.
Chart streaming also allows pilots to use departure, approach and arrival charts right away, even while the charts database is synchronizing between the GTN and G500/G600 glass flight display.
With Flight Stream 510, customers can pair an Apple mobile device operating Garmin Pilot to the GTN to access text and voice services enabled by a GSR 56 datalink. While in-flight and on the ground, pilots can send and receive text messages with a mobile device using a familiar conversation format using the phone's existing contact database.
Similarly, customers can initiate phone calls on an Apple mobile device within Garmin Pilot, so it's easier to complete phone calls over a headset while in flight.
The GSR 56 also supports the display of weather on compatible avionics.
Flight Stream 510 supports wireless flight plan transfer via Bluetooth between the GTN 650/750 and the industry's most popular mobile applications, Garmin Pilot and ForeFlight Mobile. When the avionics are powered on, the flight plan transfer occurs with a couple of taps.
Flight plans can be saved within the flight plan catalog or activated for immediate use within the GTN. With Flight Stream, pilots have the added convenience of flight planning on a mobile device and wirelessly transferring it to the GTN in seconds so more time can be devoted to other activities prior to departure.
The information and capabilities provided by Flight Stream 510 are enhanced even further when the GTN 650/750 is interfaced to the GTX 345 all-in-one ADS-B transponder or GDL 88 ADS-B datalink. When paired with either of these products, ADS-B traffic and subscription-free Flight Information Service-Broadcast (FIS-B) weather display via Bluetooth on a mobile device operating Garmin Pilot or ForeFlight Mobile.
Flight Stream 510 compatibility is further extended to include the GDL 69/69A SiriusXM datalink receiver, which supports the display of SiriusXM Aviation weather within Garmin Pilot in the U.S. and Canada. Pilots and passengers also have access to channel selections, volume controls and can save favorite audio channels for convenient remote control and access of SiriusXM satellite radio from anywhere in the cockpit.
Garmin portables including the aera 795/796 and the aera 660 are also compatible with Flight Stream 510, which support the display of ADS-B traffic, FIS-B weather information and more. TargetTrend and TerminalTraffic also enhance the traffic display within the aera 795/796 and aera 660, while FIS-B weather products can be overlaid on the moving map and dedicated weather pages. Additionally, the aera 660 supports wireless flight plan transfer, as well as the display of back-up attitude information.
Flight Stream 510 is expected to be available in August for a list price of $1,495. The latest GTN 650/750 software upgrade that supports wireless database transfer and more is expected to be available in August through a Garmin Authorized Dealer (installation charges may apply).