On opening day of AirVenture, Dynon Avionics unveiled SkyView HDX, the company's new flagship SkyView system.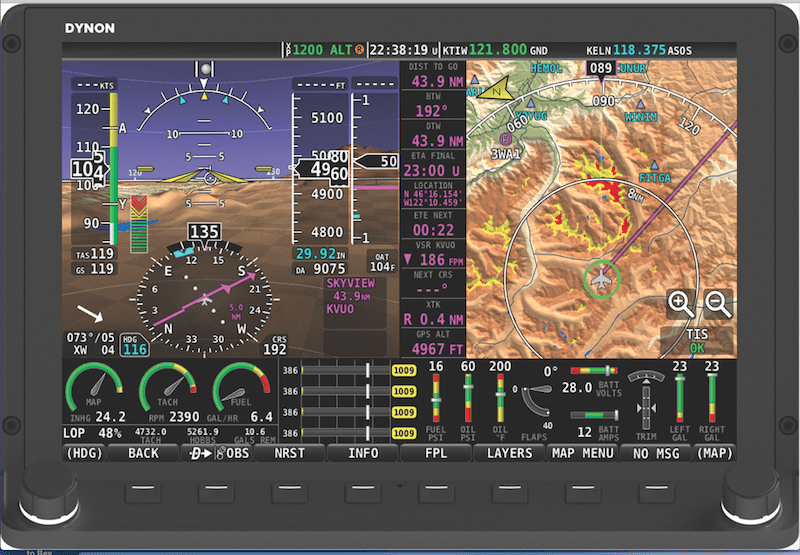 "SkyView HDX features improved displays, beautiful design, unrivaled control ergonomics, and an upgraded touch interface," company officials said in a prepared release.
SkyView HDX displays are compatible with all existing SkyView components and feature identical mounting profiles and electrical connections.
"After spending thousands of hours sweating the details, homebuilders are rightfully proud of their aircraft," said Robert Hamilton, Dynon president. "They deserve the premier glass panel: SkyView HDX."
Displays: SkyView HDX features brighter, higher-resolution HD touchscreen displays with wider viewing angles and improved anti-reflective properties.
Control Ergonomics: SkyView HDX expands the SkyView philosophy of combining full physical controls with a touchscreen. SkyView HDX's angled control panel allows for natural hand positioning, reducing fatigue. The wide, sculpted ledge allows you to anchor your hand for precise control in turbulence. All controls are now fully-backlit for night flight.
Improved Touch Interface: SkyView HDX features icon-driven touch controls and simplified screen navigation for reduced workload, according to company officials.
The new engine monitor instrument band is now along the bottom of the screen. The glass display features edge-to-edge touchability with no bezel in the way.
Compatible: SkyView HDX utilizes the same components and modules as existing SkyView systems. It also features the same mounting footprint and wiring as other SkyView displays, allowing drop-in upgrades for pilots already flying behind SkyView. SkyView HDX displays can also work side-by-side with SkyView Touch and SkyView Classic displays.
SkyView HDX will be available in both 7-inch and 10-inch touchscreen versions. The 10-inch SV-HDX1100 display will be priced at $4,490, while the 7-inch SV-HDX800 will be priced at $3,190.
SkyView HDX is expected to be available Fall 2016.
$500 price decrease for SkyView Touch, Classic, AF-5000 Series systems
In other news, company officials reported that effective July 25, all SkyView Touch, SkyView Classic, and AF-5000 series displays now include navigation mapping capabilities. This equals a savings of $500 per system compared to previous pricing, where the mapping software was an additional separate $500 purchase.
"With the recent introduction of our entry-level SkyView SE system — which does not have mapping — and the unveiling of our new flagship SkyView HDX, we saw an opportunity to streamline the purchase of SkyView systems to best serve our customers," said Michael Schofield, marketing manager. "Now every new SkyView and AF-5000 customer will save $500 on their system, and they no longer need to opt in to have world class navigation and mapping software in their aircraft."
A Preview of SkyView Software Version 15
Company officials also offered a preview of the upcoming SkyView Software Version 15, which contains a variety of new features such as:
Extended Runways on Map
Highway in the Sky (HITS)
Airport Signposts in Synthetic Vision
Maintenance Logging
Weight and Balance Calculator
VNAV from SkyView's flight plan to your destination airport, arriving either above the airport or right at the runway itself.
Airspace proximity notification. This includes airspace you are in, upcoming airspace along your flight path, and those that are above and below you.
Extended Runways on Map
Highway in the Sky (HITS) & Airport Signposts in Synthetic Vision
Maintenance Log
Weight and Balance Calculator
SkyView Software v15's new features will be available as a free upgrade for SkyView Classic and SkyView Touch by the Fall. SkyView HDX will ship with all v15 features when it is released.