GlobalParts.aero has been designated the first domestic stocking dealer for the HOT-STOP 'L' Fire Containment Kits by Baker Aviation and Industrial Energy Products (IEP).
"We pioneered the lithium-ion battery runaway solution in 2010 with HOT-STOP 'L', and we have continued to be the leader with our lightweight, burn certified bags that are now offered with advanced zipper technology to eliminate all smoke emissions," said Ray Goyco Jr., president of Baker Aviation Maintenance. "We predict the demand for containment of such unexpected eruptions will continue to grow as more and more of these powered devices are being brought on board aircraft today."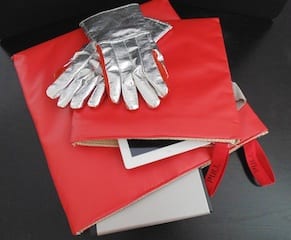 Malissa Nesmith, Chief Operating Officer at GlobalParts.aero, added, "We recently added HOT-STOP 'L' kits on our company aircraft, so I am confident that we are prepared now if one our smart phones or laptops has a battery malfunction. We are looking forward to working with Baker Aviation to penetrate the market, as a stocking dealer for HOT-STOP 'L' kits, and we are excited to offer our customers a proven deterrent to this onboard threat while supporting their Safety Management programs."
The HOT-STOP 'L' Kits include a pair of fire safety gloves and can be used to store a laptop, tablet, or smart phone when not in use, contain an overheating device, or one that is in full thermal runaway.
The bags are made of multiple durable fabrics with a felt inner core that has a 3200ºF melting point, which is sandwiched between two outer layers that have a 2080ºF melting point and are proven to absorb energy and fire while eliminating the escape of smoke, sparks and flames.
Multiple sizes are available to fit various devices up to the large 25" x 25" bag designed to contain defibrillators
and all-in-one computers.
Optional accessories are also available, including a carry/stowage sling and an exterior carry bag with zipper.