LAKELAND, Florida —  John Best, Jr., one of the original founders of the SUN 'n FUN Fly-In, passed away July 30, 2016. He was 79.

Born in Bethesda, Maryland, he moved to the Lakeland area in 1963. The U.S. Air Force veteran worked as a Ford automotive mechanic.
Besides being one of the original founders of SUN 'n FUN, John also served as the fly-in's official photographer.
John loved motorcycles, especially the four of his own. He also had a love for weightlifting, model airplanes and being a private pilot.
John was preceded in death by his wife, Maxine Best. He is survived by his three daughters, Rhonda L. Green, Pamela J. Wright, and Cheryl A. Reynolds, all of Lakeland; nine grandchildren; and 13 great grandchildren.
In lieu of flowers, donations to the Bring Jason Cash Home Fund, (c/o Dana Cash) P. O. Box 92, Kathleen, FL 33849, are appreciated. Condolences to the family can be made here.
William H. "Bill" Pierson
In other news, long-time volunteer William H. "Bill" Pierson also passed away on July 30, 2016, after a courageous year-long battle with cancer. He was 69.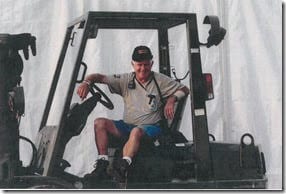 Bill and his wife Judi have volunteered for SUN 'n FUN for more than 14 years and were part of the fly-in's Early Bird Volunteer Family.
Raised on the family farm in Orford, N.H., "Billy Backhoe" loved to play with tractors and dig in the dirt. After years of working for others, in 1981 he began his own business, Pierson Excavating, in Fairlee, Vermont.
After 24 years of military service, both active duty Army and Vermont National Guard, he retired with the highest enlisted rank of Command Sergeant Major. In addition, he was a member of the Fairlee Fire Department for over 30 years, seven of which he served as Chief.
With roots firmly planted in Vermont, Bill eventually decided to try his wings and relocated to Florida where he volunteered as an Early Bird for 14 years at SUN 'n FUN.
No matter where he was, he somehow always managed to find a tractor to operate. As a volunteer for the fly-in, he shared his talents in the maintenance department running heavy equipment or doing anything that was asked of him.
Bill leaves behind his wife of 36 years, Judith (Patton) Pierson, sons Todd and wife Janna, Chad and wife Mary, a daughter Amy and husband Heath, all of Fairlee, Vermont, seven grandchildren, four great-grandchildren, and sisters Nettie Blake and Carol Gordon, both of Coldwater, Ohio.
In lieu of flowers, donations can be made to the Fairlee Fire Brigade, P.O. Box 53, Fairlee, VT, 05045.