The Aircraft Owners and Pilots Association (AOPA) Air Safety Institute (ASI) released the latest edition of the Joseph T. Nall Report, which provides the most comprehensive analysis of general aviation safety available.
The latest edition includes data through 2013, the most recent year for which NTSB probable cause findings, aviation activity surveys, and other relevant data sets are available in final form.
For the first time in the 25-year history of the Nall Report, the rate of fatal accidents in non-commercial, fixed-wing aircraft dropped below 1 per 100,000 flight hours.
Preliminary data on more recent accidents show a small increase in the fatal accident rate in 2014, though it remains among the three lowest on record and well below the 10-year moving average.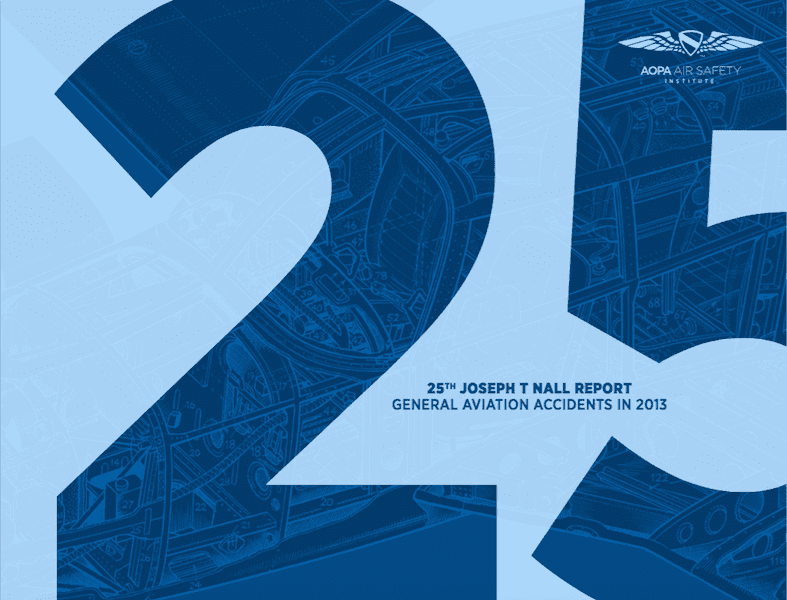 "There is good reason to be optimistic as general aviation moves forward," said ASI Senior Vice President George Perry. "I am encouraged by the achievements to date and the positive safety trends that this Nall Report details."
While the FAA estimates that non-commercial flight hours declined in 2013, the number of accidents declined more sharply. This resulted in the lowest non-commercial fixed-wing accident rate recorded in the 25-year history of the Nall Report: 5.79 accidents per 100,000 flight hours.
"Whether it's regulatory reform with the long-awaited FAR Part 23 rewrite, programs like NORSEE that allow safety innovations into the cockpit, or the FAA's updated compliance philosophy, I can't recall a time where industry, government, and associations have been so well aligned to help improve general aviation safety," said Perry. "The AOPA Air Safety Institute will continue to do its part by working cooperatively with the government, industry, and other associations and by providing free safety education to hundreds of thousands of pilots each year."