A tip from a neighbor led J.T. Strange to Schweiss Doors for a customized bifold liftstrap/autolatch door for the hangar adjacent to his home at Obannon Creek Aerodrome Airpark in Goshen, Ohio.
Strange says the neighbor was introduced to Schweiss Doors at AirVenture in Oshkosh, where he talked to company owner Mike Schweiss.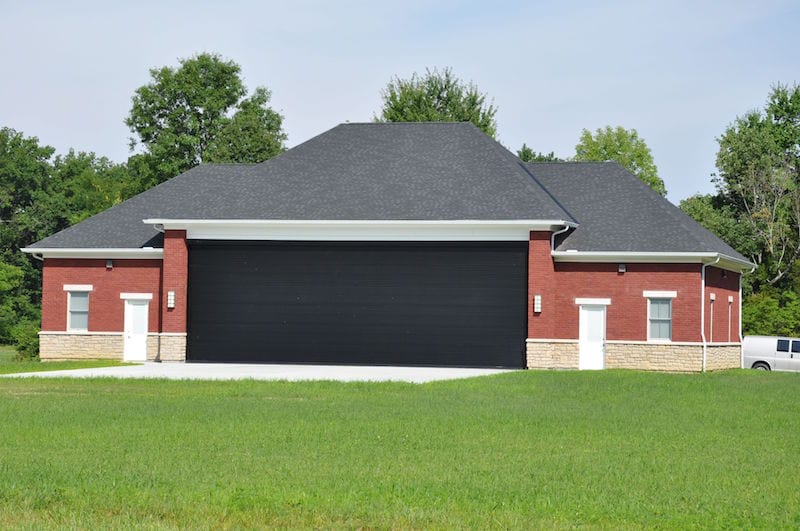 "I researched a lot of other hangar door companies, but along the lines of making the personal contact (with my neighbor) I was pretty much sold on Schweiss and went that way," says Strange. "It wasn't even a matter of cost at that point anymore. I went on the reputation that Schweiss has."
Strange's hangar required a 45-foot by 15-foot, 11-inch door to house his Cessna 182T, which he uses for business and pleasure. Bob Beckman of R.D. Beck Services of Harrison, Ohio, a Schweiss Doors installer since 1999, was able to fill the request.
Strange wanted a Schweiss bifold liftstrap/autolatch remote opening door, with black horizontal corrugated sheeting on the face of the door.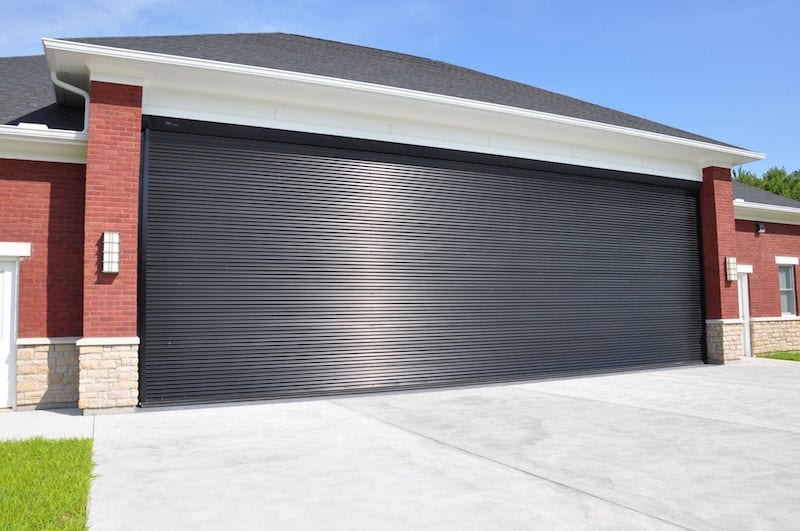 "By mounting the sheeting horizontally, we were able to have the top corrugated panel of the bifold door overlap the lower panel," Strange says. "When you look at the closed door, even when you are standing very close to it, the two-inch pattern appears to be seamless with no joint in the middle and looks more like a single panel hydraulic door. It came together perfectly. We couldn't ask for anything better."
Strange's research and engineering background led him to select a bifold door over a one-piece hydraulic door because there is less surface area for windy conditions and when there is heavy snow. Another feature Strange insisted on was to have the door inset about two feet, instead of installing it on the face of the building.
"I wanted to do something totally different," Strange says. "I kind of wanted to go beyond the typical look of an airport hangar door. I like the autolatches and remote opener. The batt-insulated door operates very quietly and is dressed up with a cedar interior trim to match the garage door."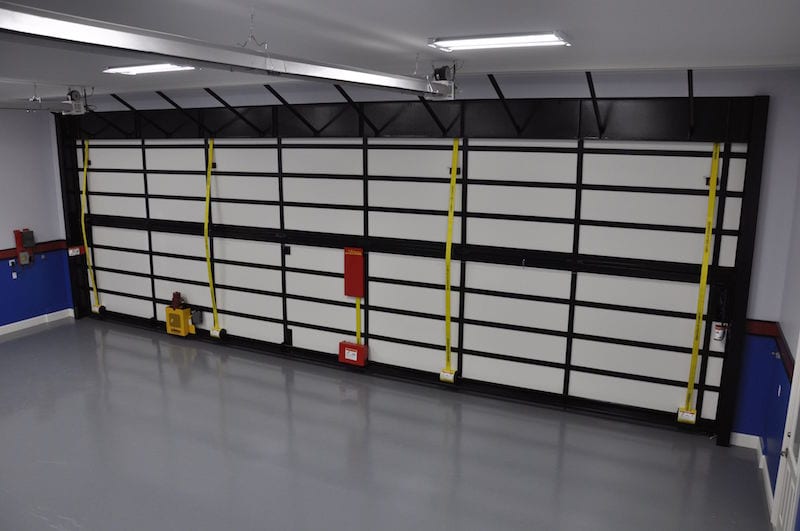 The inside of the hangar is painted in a patriotic red, white and blue with a large American flag on the back wall. Strange says he appreciates the sacrifices veterans have made, including his father, a Vietnam veteran.
What he likes most about his door is the look.
"That's because when it comes to the mechanics of it, the operation of the motor and everything else, there have been no issues with it whatsoever," Strange says. "It's like you don't even think about the mechanics of it; it's very sound, even the autolatching system. That's why I haven't added the foam on both sides of the door. It pulls so tight in, it's pretty much sealed up already."