When I was a boy growing up on a farm, we had one pail of grease and it was used to lubricate everything on the farm.
But aviation is different: There is a wide variety of greases and they have different properties for each application.
The unique part of greases is that they are not thick oil, but rather normal base stocks oil that are chemically thickened. The base oils are the same as those used in engine oils. They vary from base oil that is thinner than water to oils that are almost like warm syrup.
These base oils are then mixed with additives to thicken it up to the needed thickness. There are a variety of different types of chemistry used to thicken the greases. One of the problems is that not all of these additives are compatible with each other, so not all greases can be mixed with others.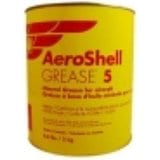 The thickness of the base oils determines the useful temperature range for the product. For example, a Mil-G-3545C grease like Aeroshell Grease 5 is used in most wheel bearing applications and has a listed useful temperature range of -40°C to 177°C. A Mil-G-7711A spec grease like Aeroshell Grease 6 is used in most airframe applications and has a listed useful temperature range of -40° to 121°C.
I have often been asked why a pilot can't just stock Grease 5 and use it for all applications on a general aviation aircraft.
The problem is that Grease 5 is designed for wheel bearings. There is a very large torque applied to the wheel bearing when the wheels hit the runway, so even though the grease may be very thick at the cold temperature, the wheels will still turn.
By comparison, Grease 6 has a very thin base oil, so that at very cold temperatures, it will still remain pliable, which is needed in control surface applications where there is not a large torque available.
If you used Grease 5 in these applications, your controls would be very stiff at low temperatures. (In some literature, they now list the working temperature range as only good to -10°F.)
Inversely, if you used Grease 6 for all applications, the high temperature from hard or repeated braking could break down the grease and lead to problems.
And the other aviation greases are even more varied with different thickening agents and synthetic base oils that could damage your seals.
The bottom line is always look at your manual and use only the grease that meets the Mil spec listed.
Now you can go from one brand of grease to another with no concern, if the greases all meet the applicable specification.
So what do you do if you buy a used plane? First look at the maintenance records of the plane. Hopefully, the records will indicate which product or at least the Mil spec of the product that was used in each application.
If you do not have any records, you can force enough grease through the control surface bearings to get fresh grease throughout.
With wheel bearings, you may wish to clean out the bearing and cavity and then repack. Always remember to clean the bearing with mineral spirits, inspect, and then wash with alcohol to remove any film. Now you can repack with the correct grease using rubber gloves to keep your skin oils off the bearing.
Another point: Be careful when pressure washing your aircraft. If you hit the grease seals, it is very easy to get water into the bearing. This will reduce the lubricating properties and greatly increase the rusting in the bearing and reduce its useful life or impede the control surface operation.
Sometimes having a little dirt on your plane may not be the worst thing.