On Sept. 10, 2016, members of Experimental Aircraft Association Chapter 1083 in Salisbury, N.C., began building a Zenith CH 750 Cruzer at the chapter's hangar at Rowan County Airport (KRUQ).
Joining the build was John Robinson, the founder of AV84All, a non-profit dedicated to providing access to general aviation airplanes for everyone. The Cruzer will be modified with special controls so that disabled pilots will be able to take flight.
"EAA Chapter 1083 is literally making a dream come true for AV84all," he said. "Without their help it would take a lot longer to get this project off of the ground. They are making flying for the disabled a reality."
Officials with the EAA chapter see the project as a win-win.
"When I was first contacted by Zenith about helping John with this special project, I felt it was a great chance to help with one of the most important missions of our chapter — to encourage, educate and promote aviation for all," said Jack Neubacher, chapter president.
That's the idea behind AV84All, as well. It was created by Robinson, who learned to fly in 2015 thanks to a scholarship from Able Flight.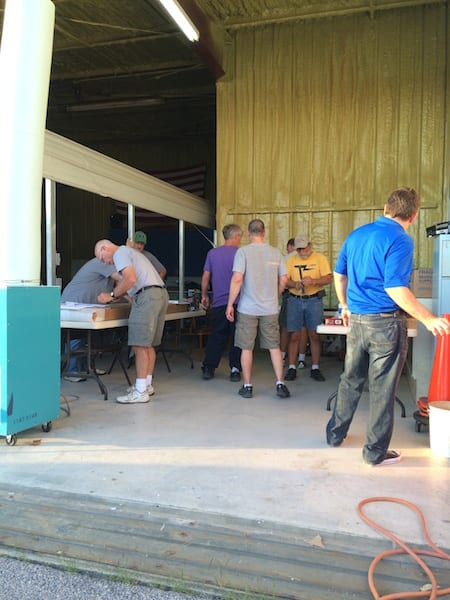 Becoming a pilot is something Robinson has wanted to do since he was a child. He describes himself as a "basic kid" who "loved planes and fire engines."
"I've always wanted to fly, but it's an expensive hobby to undertake," he said. "Right before I had my accident, I finally had a good job, so I was going to get all my finances squared away and get established and then do my pilot training."
All that changed after a car accident that resulted in him becoming a quadriplegic. Instead of pursuing a career in law enforcement, he earned a Master's Degree and taught special education students for a number of years.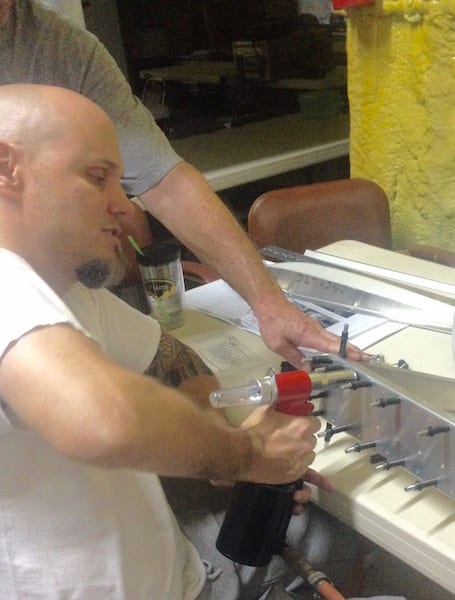 He believed that learning to fly was "gone forever," until a friend told him about Able Flight. He says he "jumped at the chance" to learn to fly and applied for a scholarship. He became part of the Class of 2015, training at Purdue University and earning his wings at a ceremony at AirVenture in Oshkosh.
The whole experience changed his life.
"I knew flying was going to be terrific, but once you're up there and once you're by yourself, once I soloed, it was like 'Holy Moly," he said. "Let's be real, life for people in wheelchairs can be pretty boring, there's not too many exciting things we can do. It was just the best feeling of accomplishment of being able to land and say 'I didn't kill myself, that was pretty cool.' It's pretty intense."
After flying sometimes three times a day during his training, it was a bit of a rude awakening when he returned to North Carolina and found that there were no aircraft he could rent. To fly, he had to travel to Atlanta — a four hour drive — to rent an aircraft with special controls from the Hansen Air Group.
That led him to look into building an aircraft that would be available not just for him, but all disabled people, to fly. He admits the project has a bit of a selfish element to it.
"I'm not going to sit here and say 'I'm just so altruistic, I just want to give back,'" he said. "Once it's done, there's going to be a plane there for me to fly."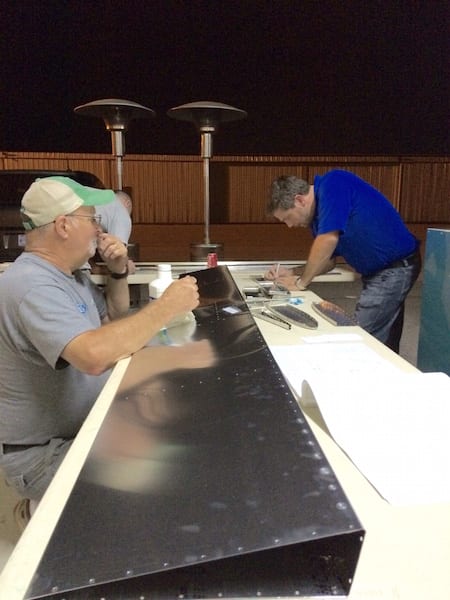 The plane, which will be based at KRUQ, will be available to anyone to rent, once it's complete, which Robinson estimates will be in about a year.
Charles Stites, the executive director of Able Flight, is optimistic about the opportunities this project will establish for people with disabilities.
"It's wonderful to see this project come together, not as an Able Flight project, but as an initiative of someone who has been through our program," he said. "And it's especially gratifying that Zenith Aircraft, a company that also supports Able Flight, has generously chosen to  work with EAA Chapter 1083 to help make this possible. I am hopeful that the success of this project will inspire similar efforts throughout the country."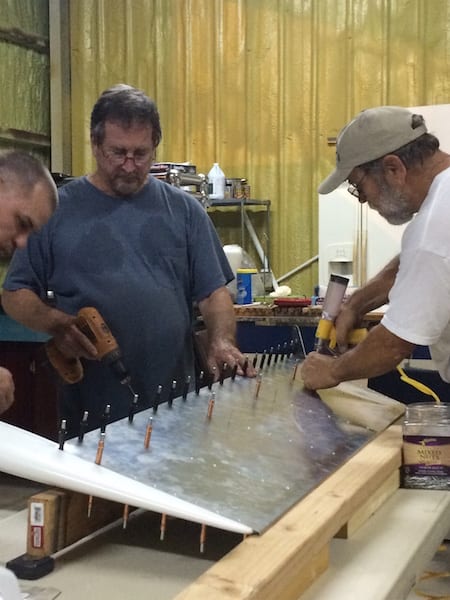 The project wouldn't have taken off without the support of Zenith Aircraft President Sebastien Heintz, Robinson acknowledges.
"When I asked Mr. Heintz if he was willing to work with me, he generously agreed," he said. "When it comes to the part of making adaptable controls he was very willing to do whatever it took to make this a reality."
Zenith Aircraft will provide an engineering review to help customize the Zenith CH 750 Cruzer to better fit the needs of the pilots with disabilities involved in this project.
"One of the wonderful things about experimental amateur built airplanes is they can be fully customized by the builder to make it one of a kind," Heintz said. "The new EAA Maker Edition of SolidWorks is a tool that will be used for the customization of the needed hand controls for this group build project. This computer-aided design software offers a huge advantage to the owner/builder/pilot when building their own aircraft, and especially for those who have a specific purpose in mind."
Also instrumental in the project's success is Viking Aircraft Engines, who Robinson said called him "out of the blue" and donated an entire firewall forward package for the plane. "I was blown away," he said.
The next big expense will be avionics, he noted.
Meanwhile, work has begun on the first kit, the tail of the airplane.
"I didn't get the whole plane at once, I got components," he said.
Once the plane is complete, Robinson has other dreams for the non-profit AV84All, including a ground school, discovery flights, flight training, simulator sessions and more.
But first they need to complete the Cruzer. And while he's a bit reluctant to ask, that will require further donations.
"It's a sad fact, but the number one need is donations," he said. "It seems that money is what gets things done here."
Donations can be made on the group's Facebook page and at AV84All.org. All donations are tax-deductible.