By CALVIN SHOOP
Dewey Davenport has always been fascinated with aircraft. As a child he built models, flew RC planes, and dreamed of biplanes, grass airstrips, and blue skies.
As I learned how to fly in central Ohio, I always heard stories about Dewey, but had never gotten the opportunity to meet him or talk with him. I got that opportunity after attending his annual Barnstorming Carnival in at Springfield Beckley Airport in Springfield, Ohio, July 16-17, 2016.
The conversation I had with Dewey could've lasted hours. His intelligence, not only with barnstorming, but aviation in general is immense.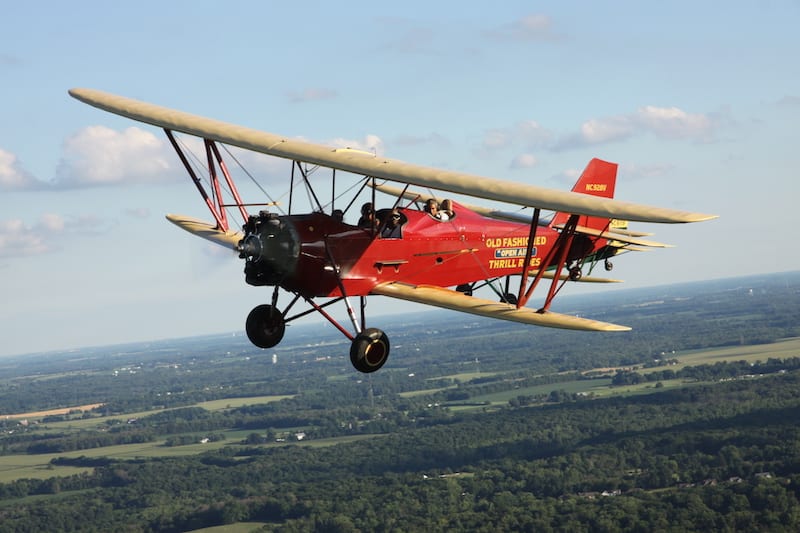 He didn't start off that way, though. Growing up, Dewey's parents did not let him take flying lessons. After he turned 18, however, he took the first opportunity he got. That opportunity came on senior skip day at his southwestern Ohio high school when he hopped into a Piper Cub for the first time.
Things were going to be different.
Or at least he thought. He couldn't make a career out of flying with a private pilot certificate, so he studied to be a real estate agent. Working as a real estate agent finally allowed him to enroll at a Part 141 flight school, finishing off his instrument rating and receiving his commercial certificate.
He flew skydivers and Navy Seals-in-training for the next few years of his life, and he loved it, but he was craving more. He flew cargo for a few years, but that didn't quite fuel his passion, either. DC-9s and Falcons were fun, but they just didn't do the trick.
His next stint was at NetJets. After flying for the fractional ownership program for two years, he, unfortunately, got laid off in 2010 due to the economy.
This wasn't a very bright moment in his life, and the next four and a half years weren't the best either. This was the time that seemed to inspire Dewey the most.
He wasn't really allowed to tell me much about that four-and-a-half year experience, due to its classified nature. All he could tell me was that he was overseas flying government aircraft from 2010 through 2014.
This was a dark time for Dewey. He spent most of his time daydreaming and brainstorming his exit strategy.
And what he was dreaming was the same dreams he had as a child: Of old biplanes, grass airstrips, and cerulean skies.
After losing a friend overseas, and flying his remains back to the states, Dewey quit his government job.
He bought a 1929 Travel Air 4000 biplane, and started a barnstorming and ride hauling business serving the Dayton, Cincinnati and Columbus area in southwestern Ohio.
"What I wanted to do when I quit my job was to go live life again, because for four-and-a-half years I wasn't living life, and well, barnstorming is true Americana," he said. "It gives you freedom to go and meet our country, and to go and meet our people."
Goodfolk & O'Tymes
"It was January 2014 and I quit my job cold turkey," he recalled. "It's January in Ohio. I don't get any money, any pay, and I went 100%, hoping for great weather, so I could start hauling rides to make money."
Just a couple years after founding Goodfolk & O'Tymes Biplane Rides, Dewey — known as Mr. Goodfolk — is hauling 600 to 800 people a year in his Travel Air 4000 biplane. This translates into hundreds of flights for his business alone.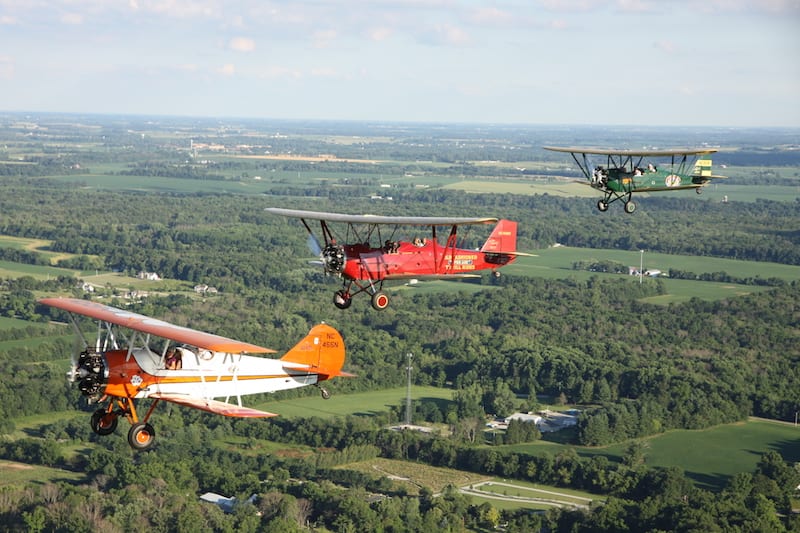 Recently, he purchased a 1930 New Standard biplane. "This biplane was designed specifically for ride hauling and barnstorming," Dewey reports.
It fits four people in the front seat, and then has room to fly from the rear seat.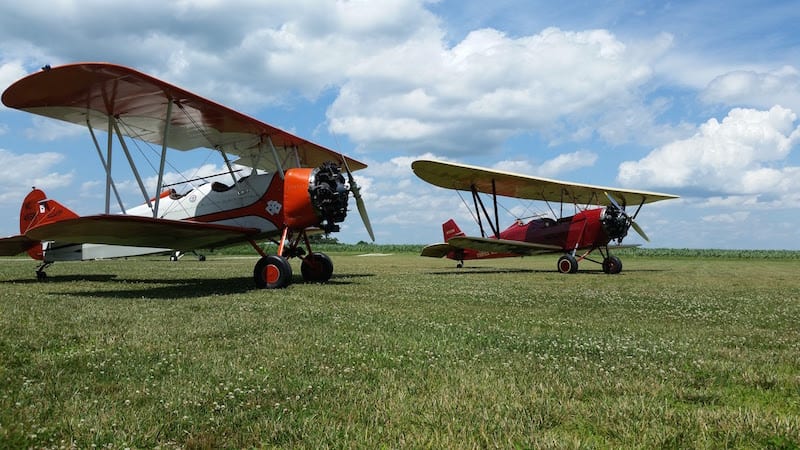 Hard work and passion drive Dewey to fly as many people as possible. But it's not just about the money —  it's also about spreading the joy of flying and the exciting history of barnstorming. It's a lifestyle.
Receiving compliments and seeing the reactions on people's faces is only a start when it comes to the overall satisfaction of barnstorming.
Dewey relates the story of an 85-year-old lady who hopped out of the plane and kissed him. He's had strangers hug him, a World War II veteran who hadn't flown since the war break down into tears, and a wheelchair bound paraplegic man gasp with joy after landing from his first flight. This is what drives Dewey to do this whenever he possibly can.
Wouldn't you love doing something that has such a profound effect on people's lives?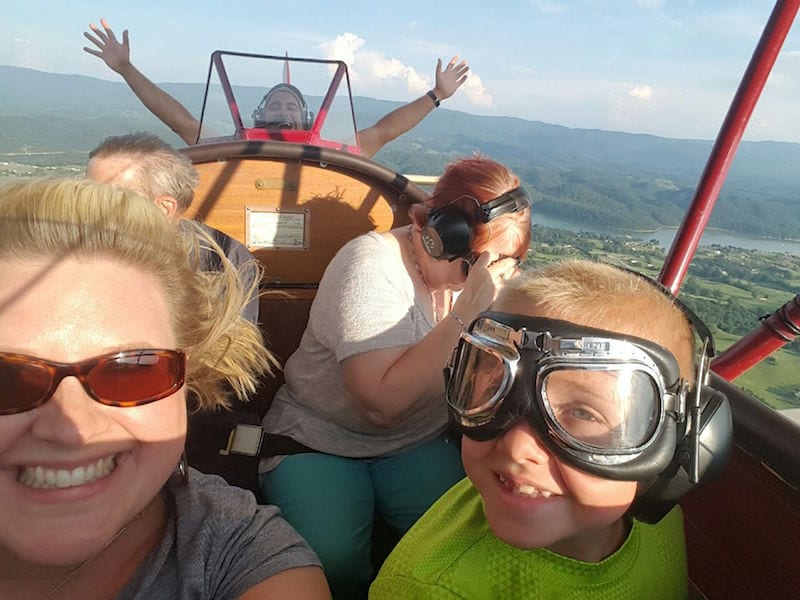 And it's not just a flight for the folks he hauls. He describes it as a full-blown experience for those who purchase rides from him. Quoting lines from "The Great Waldo Pepper," and other aviation classics, he immerses his passengers in a world of humor and old-timey mystique.
If you want to see Dewey in action I recommend attending his annual Barnstorming Carnival. I went this past summer, and it was a very unique and fun experience. And it's even more fun if you get a chance to ride in a biplane when you're there.