DENVER — The Colorado Aviation Business Association (CABA) reports it has collected the required number of petition signatures for the state of Colorado to issue a "Special Group" License Plate.
As of Dec. 1, 2016, CABA had 3,071 unique signatures, surpassing the required number of 3,000.
Designed by artist Chris Glaser, the plate depicts a runway with the Colorado logo and snow-capped mountains in the background. Silhouettes of various types of aircraft are shown in the scene: Commercial airliner, business jet, small training aircraft, glider, hot-air balloon, and helicopter.
"The goal of the project is to raise awareness of the impact of aviation on a large number of residents and industries across the state. And rather than being a fundraiser, the plates are primarily intended as a show of support," said CABA board member and project lead Chris Swathwood. "The plates will cost only $50, the standard fee which covers DMV costs and the Highway User Tax Fund."
Obtaining the required petition signatures is only the first step in the process. CABA is now completing the application forms. Then, a state representative must sponsor a bill authorizing creation of the plate.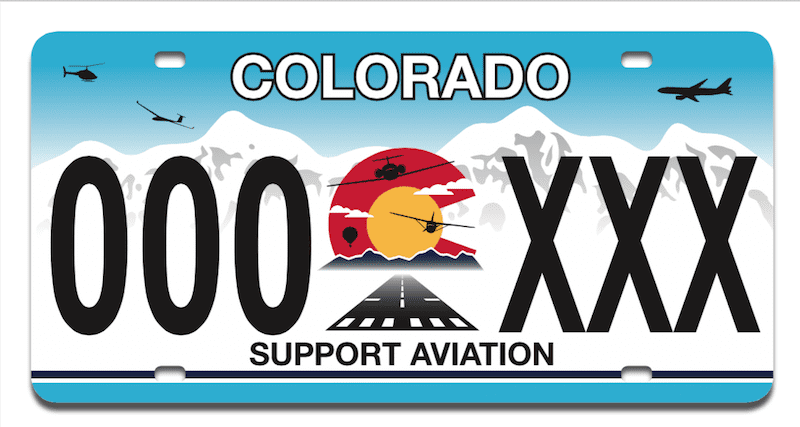 After the legislation is adopted, the state will proceed with production of the plates.
The project is supported by aviation groups in Colorado, including The Colorado Pilots Association, Colorado Agricultural Aviation Association, Wings Over The Rockies Air & Space Museum, and the Colorado Department of Transportation's Division of Aeronautics.
Aviation has a significant economic impact in Colorado: It accounts for 265,700 jobs, $12.6 billion in payrolls, and a total economic output of $36.7 billion, according to the latest study by the Division of Aeronautics.