Two veteran pilots in Georgetown, S.C., received the Wright Brothers Master Pilot Award Dec. 13, 2016.
George Ream, representing the FAA's Flight Standards District Office in Columbia, S.C., presented the awards to AJ Rigby and Charles Craddock.
The Wright Brothers Master Pilot Award recognizes pilots who have demonstrated professionalism, skill and aviation expertise in maintaining safe operations for 50 or more years and made a contribution to aviation safety.
In addition to the plaque, Rigby and Craddock's name will be added to the FAA's Roll of Honor in Washington, D.C.
Rigby started in aviation in 1955 and in 1990 was appointed as the Georgetown Airport manager. He served as chairman of the Georgetown Airport Commission for 10 years and has continued his positive leadership at the airport since his retirement from the commission.
Rigby has piloted his aircraft throughout the United Sates and flew missions for the Civil Air Patrol at Lake City, S.C. He has owned several airplanes, including a Beechcraft Bonanza A-36, which was based at the Georgetown Airport for 20 years. He currently holds a private pilot's license.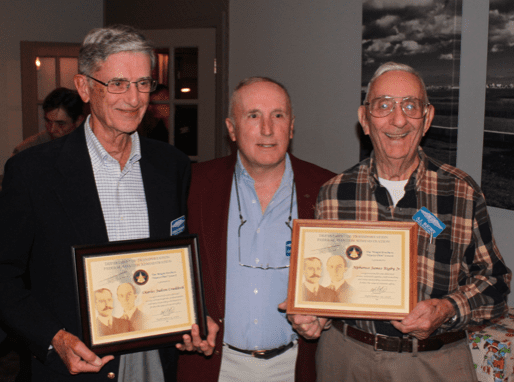 Craddock began flying in 1963 in West Virginia and has experience flying more than 23 different airplanes from a J-3 Piper Cub to a King Air 200. He holds license for Single and Multiengine, land based airplanes and holds an Instrument rating. At the present time he is flying a Cessna 182 based at the Georgetown Airport.
Craddock is active in the EAA's Young Eagles program and has introduced more than 100 young people to aviation. He is a member of the Aircraft Owners and Pilots Association, Experimental Aviation Association, USAF Museum in Dayton, Ohio, and The American Air Museum in Britain at Duxford.