Bill Hamilton will be inducted into the Nebraska Aviation Hall of Fame on Jan. 26, 2017, during the silver anniversary of the Nebraska Aviation Symposium, which he helped found 25 years ago.
Hamilton was nominated for induction into the hall of fame by former Nebraska Governor Charles Thone.
"To be inducted into the Nebraska Aviation Hall of Fame, that already includes General Curtis L. Lemay; aviatrix Evelyn Sharp; Tuskegee Airman Lt. Colonel Paul Adams; the Nebraska Women Air Force Service Pilots (WASPs); famed aerobatic pilot Harry Barr, and aviation entrepreneurs Donald and J. Robert Duncan, to mention only a few, is, indeed, a high honor," Hamilton said. "I am very grateful to Governor Thone for this nomination and also grateful to former Nebraska Governor Kay Orr for appointing me to the Nebraska Aeronautics Commission (NAC) and to be chairman of the Nebraska State Airline Commission."
Earlier, Hamilton served on the Kansas State Aviation Advisory Board. In 1997, he was appointed to the Colorado Aeronautical Board.
Hamilton is already a laureate of the Colorado Aviation Hall of Fame, and the University of Oklahoma Army ROTC Wall of Fame. On active Army duty, he received the Silver Star, the Distinguished Flying Cross, the Legion of Merit, 20 Air Medals, four Bronze Stars, the Purple Heart, the Army and the Air Force Commendation Medals, and the Master Parachutist Badge.
In 2012, Hamilton was honored by the North Dakota Aeronautics Commission for 25 years of Outstanding Service to aviation in North Dakota. In 2014, for his 33 years as nationally syndicated columnist, Hamilton was inducted into the Oklahoma Journalism Hall of Fame.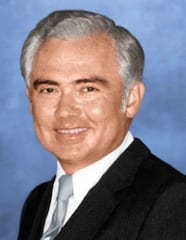 "For a quarter-century, Penny and I were honored to serve general aviation in Nebraska, Colorado, North Dakota, South Dakota, Kansas, Oklahoma, and Wyoming. Now, our efforts are focused on the Emily Warner Field Aviation Museum which Penny and I co-founded and is free to all."
From 1974 to 1992, Hamilton, and his wife, Dr. Penny Hamilton, lived in Lincoln, Nebraska, where both earned graduate degrees from the University of Nebraska-Lincoln.
Both private pilots, they co-hold a World Aviation Speed Record from Lincoln to New Orleans. Penny is a laureate of the Colorado Women's Hall of Fame and the Colorado Aviation Hall of Fame.
In 1989, then Nebraska Governor Kay Orr appointed Bill Hamilton to the Nebraska Aeronautics Commission (NAC). Hamilton was instrumental in the creation of the Nebraska Aviation Council and the annual Nebraska Aviation Symposium.
A private pilot since 1968, Hamilton believes unknown weather was general aviation's greatest threat. He was a driving force behind the installation of weather-information kiosks at public airports across Nebraska.
Consequently, Nebraska became a national leader in free-to-the-user aviation-weather systems – accessible, not just at the airports, but online as well.
Hamilton worked to increase funding for Nebraska's unique system of state-owned navigational and weather systems. As NAC chairman, Hamilton revised Nebraska's revolving hangar-loan program, to include cutting the interest rate in half, extending the pay-back period to 10 years and using surplus funds for EPA-approved aerial-spray pads at public airports.
Hamilton was educated at the University of Oklahoma, the Army Language School, the George Washington University, the U.S Naval War College, the University of Nebraska, and Harvard University.