As the Bonanza celebrates its 70th anniversary this year, there's another big celebration in the works: The 50th anniversary of the American Bonanza Society (ABS).
ABS officials are planning an "epic" event in September to commemorate the Golden Anniversary in — where else? — Wichita, where the Bonanza was born seven decades ago.
"We call the gatherings the Beech homecoming," noted Paul Damiano, ABS president.
He added that while it's called the American Bonanza Society, members fly a variety of Beechcraft aircraft, including Bonanzas, Barons, Debonairs, and Travel Airs.
While past gatherings have been "awesome," he says this year's will be the best one yet.
The 50th anniversary, slated for Sept. 21-24, will be a "once in a lifetime" event, added Whit Hickman, ABS executive director.
"We've been around for 50 years, which I think says a lot about our membership," he said. "It also says a lot about our leadership for 50 years — not only our staff, but our volunteer board and past leaders throughout 50 years. A lot of good people have paved the way to where we are today."
At 50 years old, ABS may not be the oldest type club, but it is definitely one of the largest. Membership tops 9,100 and — against all odds — is growing.
Membership has actually gone up about 5% in the last four years, according to Thomas P. Turner, executive director of the ABS Air Safety Foundation. He added the society has a retention rate that's close to 90%.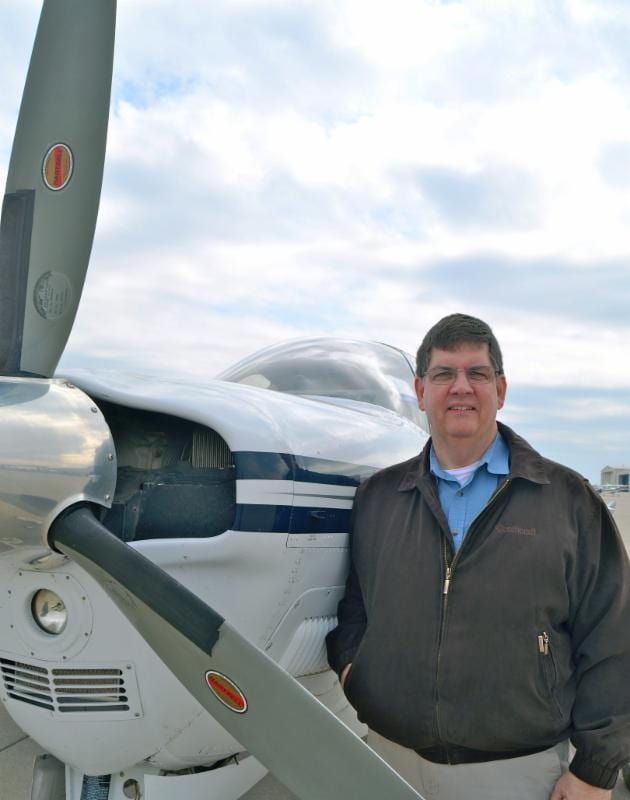 Fueling that growth are continued efforts to create "a lot of additional value for the membership investment," he said.
For just $70 a year, members have access to a plethora of services, from the Beechcraft Pilot Proficiency Program (BPPP), the ability to reach an ABS technical advisor on the phone anytime, an online searchable library of all Beechcraft technical information, ABS Service Clinics that offer aircraft inspections, an aircraft insurance program, mechanic and flight instructor training, and much more.
And like most type clubs, members get a magazine, as well as invitations to the annual conventions, fly-ins, regional events, get-togethers at the big shows — SUN 'n FUN and AirVenture — and more.
"What we've tried to do is go far beyond what most type clubs offer to provide a lot of additional member services that directly impact the way our members own and fly their airplanes," Turner said.
What is also fueling membership growth is good, old-fashioned customer service.
"People are so busy and get so many renewal notices and emails, that we decided we've got to make phone calls," Hickman said. "We just call them and say, 'hey, your membership expired,' and they usually say, 'thanks for reminding me.' It sounds simple, but that's what we do every month and it's brought our percentage up about 5%. That doesn't sound like a lot, but 5% in our market is everything."
"Also, we don't have automated voice machines here," he continued. "When you call here, you get a live person. I think people really appreciate that."
Planning is underway now for the golden anniversary event.
Some activities will be held at the Hyatt Regency Hotel and Convention Center in downtown Wichita. There will be a slate of speakers, including Rod Machado, more than 30 hours of seminars, an exhibit hall with 75 to 100 exhibitors who specialize in Beechcraft products, and many, many social events.
Social events will also be held at Jabara Airport (KAAO), where members will fly in. There will be a hangar party, a tour of the factory, and more.
Hickman said he hopes to get members there with planes that represent every model of the line.
According to Turner, there are 57 different pilot's operating handbooks for the airplanes that ABS supports. (Just a few of them are pictured below).
"People will be able to walk up and down the line and see the different models during our hangar party at the airport," he noted.
While it's still early to say if that will happen, early indications show that the event will be well-attended.
"The first day we opened registration, we had 100 people register," Hickman reports.
An email sent out to the entire membership to gauge interest in the event saw a return rate of more than 3,000 responses, with more than 400 people saying they plan to attend the homecoming. Another 900 said maybe.
"You never know until it happens because of weather and things like that, but there is uncharacteristically high interest in this event," Turner reported. "I anticipate — but you never know for sure — that we are going to see in excess of 1,000 people there."