James C. Ray, 94, of Naples Florida, died peacefully on April 1, 2017, following a short illness.
An entrepreneur, Ray donated millions of dollars to SUN 'n FUN, first to help build the Central Florida Aerospace Academy, then the hangar for the Lakeland Aero Club, and numerous other projects around the fly-in campus.
"It was a sad day to lose such a great man," said John "Lites" Leenhouts, president of SUN 'n FUN.
Born Jan. 1, 1923, in San Francisco, Ray graduated from high school at 17, then went to work full-time as a steelworker.  In 1941 he and his crew were sent to Pearl Harbor to build a building for the U.S. Navy. On Dec. 7, he witnessed the Japanese attack from a vantage point about 400 yards from the USS Arizona.
Shortly after, he enlisted in the Army Air Corps, where he demonstrated an aptitude for flight training, and ultimately served as a B-17 command pilot with the Eighth Air Force, 447th Bomb Group. Among his 30 missions were raids on the Schweinfurt ball-bearing plants and a D-Day attack on a German Army headquarters in Caen, France.
His business career began in earnest after the war. During a span of more than 40 years, he was actively engaged in venture capital investments, as a seed investor and advisor to more than 300 startup technology companies.
Aviation always remained a part of his life. Through the years, he owned many aircraft. One of his favorites was a Cessna 170B, which he flew in the 1950s. For 29 years, he flew Cessna Citation jets, and was rated for single pilot operations.
Ray focused much of his philanthropy on aviation, supporting the University of North Dakota's Odegard School of Aerospace Sciences, the Experimental Aircraft Association's Air Academy in Oshkosh, the Aircraft Owners and Pilots Association's youth aviation and pilot safety initiatives, and SUN 'n FUN's youth aviation education programs.
He also established the James C. Ray Scholarship Fund, providing financial support for flight training to Polk County, Florida, high school students. He believed the self-discipline and self-confidence he learned during flight training helped him achieve success in life and business. He felt strongly that these traits and assuming responsibility for one's own actions are learned skills and important character traits that can make one free to pursue their dreams.
This year, SUN 'n FUN created the James C. Ray Legacy Society, where people can leave bequests in their wills to SUN 'n FUN.
Beyond his money, Ray would spend time with the students, often spending hours watching them fly from the grass strip behind the Lakeland Aero Club hangar, Leenhouts reports.
While he often described himself as a curmudgeon — a miserly, ill-tempered old man — those who knew him said nothing could be further from the truth. He shunned the spotlight, often making his donations anonymously.
At last year's dedication of the new Lakeland Aero Club, he declined to make a speech, but once the official ribbon cutting was done, he was quickly surrounded by the kids. That's when his face lit up.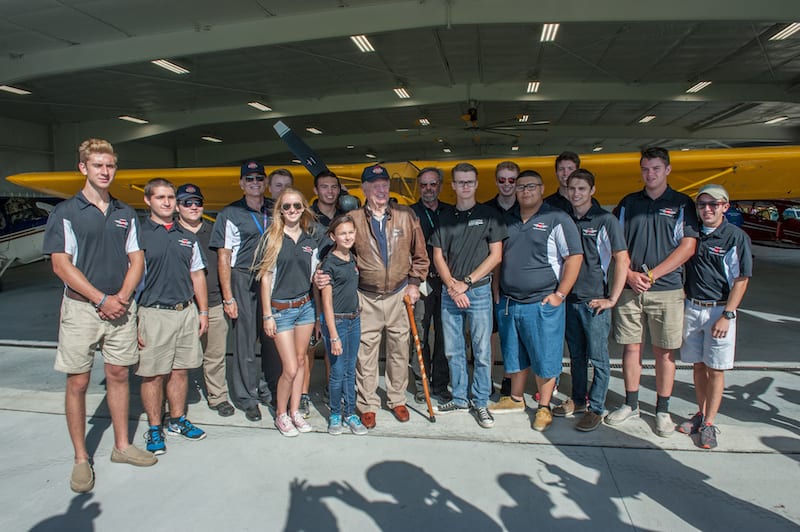 Ray was predeceased by his wife, Joan,  in 1986, his son, Jim, in 2005, and daughter Joanie in 2009. He is survived by many friends around the world, the hundreds of people his philanthropy has benefitted, and his loyal Papillion dog Mia.