We're lined up two abreast on Lakeland-Linder Regional Airport's big Runway 27, slightly staggered like fighters on an aircraft carrier's deck.
Ahead of us a flight of two massive T-28 Trojans in Navy colors thunder down the runway. The T-28s lift into pale morning sky and the tower radios that it's our turn to takeoff.
The lead plane begins his roll. When he breaks ground, the plane ahead of me starts rolling. As he rotates, the plane to my left powers up. As soon as I see daylight under his belly, I advance my throttle to the firewall and give chase.
I'm racing in the fifth annual Sun 40 Sprint at SUN 'n FUN…oh wait. My bad.
This isn't a race. It's a speed trial. No racing going on here in this busy airspace.
And it's true.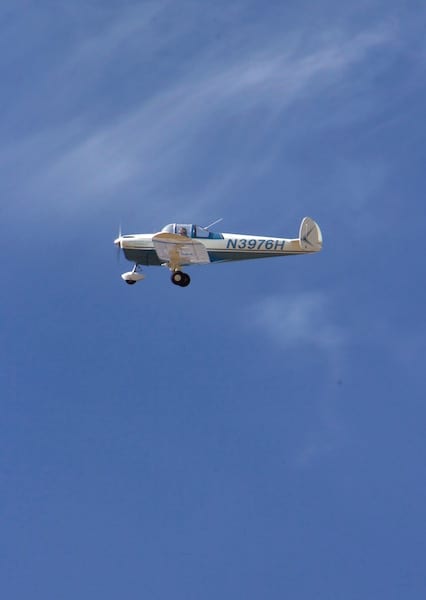 The leader of the pack has landed and tied down by the time I reach the halfway point, so it could hardly be called a race now, could it?
The field was light this year for the event, with four planes competing: Bruce Hammer in a Glasair 1TD-T, Pete Fontaine in an RV-8, Les Burrill in a Midget Mustang, and me in my turbine-powered, record-breaking, national champion Ercoupe.
OK, I lied about it being turbine-powered.
It does, however, hold a world speed record, and it did take the second-place national champion slot for production airplanes in the Sport Air Racing League last year.
I lift off, climb out, and turn on course, the planes ahead of me already dwindling to specks. It's hazy and bumpy out on the course.
And even though it's only mid-morning, and I'm 1,500 feet up, it's hot. I decide that because it's SUN 'n FUN ­— and because I have no competition in my class — I'll slide my canopy open.
That adds some drag, which slows me down a bit, so I don't normally fly for speed that way, but it seemed in the spirit of the event.
What could be more Fun 'n the Sun than racing…err…speed trialing open-cockpit?
And it's a glorious way to welcome spring, with the sun on my face and the wind in my hair. I tuck my notes on turn names, frequencies, and procedures under my right leg so the sheet of paper isn't sucked out of the cockpit and into the slipstream, and then settle in for the ride, which is over all too soon.
How'd I do?
I came in third place…uh…third fastest in the speed trial. How did a 'Coupe manage to out-pace one of the other very fast planes in the trial?
Burrill's Midget Mustang shed its spinner on the course. He withdrew from the trial and executed a textbook precautionary landing at one of the trial's alternate airports, leaving me a spot on the podium.
Here's the 2017 Sun 40 Sprint speed trial results:
Hammer: 197.4 kts
Fontaine: 173.3 kts
Me: 97.22 kts
Join us next year at SUN 'n FUN's speed trial and see how you measure up!