Hangar Swap has unveiled its newest version of its online parts marketplace. The overhauled site is mobile friendly, which allows users to buy, sell and manage inventory from a smartphone or tablet.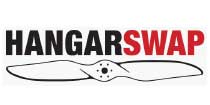 Sellers who organize their inventory in a Microsoft Excel spreadsheet will enjoy the new system's upload ability. Newly uploaded inventory is tagged pending, but is searchable.
The Parts Radar System allows buyers to submit a part request for all enrolled sellers to see.
The number one requested feature from sellers was the ability to synchronize their eBay and Hangar Swap inventories. The new eBay sync ensures sellers won't sell the same part on both platforms. This feature will roll out during the summer 2017, says a HangarSwap statement.
Other notable features include the ability to search previously sold items, enhanced communications and a seller's dashboard.
At press time, Hangar Swap had more than 7,000 parts – and growing – from more than 300 different sellers from around the world.
Hangar Swap's commission is 5% with a cap for larger priced items.
"It's important to me that we provide a lower commission fee so that fellow aviators have extra cash to go flying," says Hangar Swap founder Rachel Lietzke Payne.
Hangar Swap is also free to list as many items as you want.